Brown: China an economic player, not a threat
(Bloomberg)
Updated: 2005-02-21 14:03
Britain and China have developed a ``shared agenda'' to tackle global economic issues, Chancellor of the Exchequer Gordon Brown said as he began a three-day visit aimed at boosting trade with the world's fastest-growing major economy.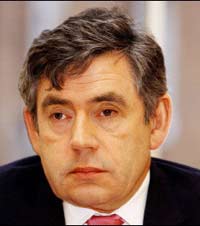 British Finance minister Gordon Brown. [File/AFP]

``I believe we can make progress in meeting the challenges of the global economy over the coming year,'' Brown said at a meeting with China's Finance Minister Jin Renqing in Beijing. Partnership between the two countries is ``deepening,'' he said.

Brown's first visit to China is recognition of the growing importance of the country whose economy quadrupled since 1978 and grabbed a 6 percent share of global exports last year. China's economy grew 9.5 percent in the fourth quarter from a year earlier, compared with 2.8 percent in Britain and 1.6 percent in the 12 nations sharing the euro. The U.S. economy expanded 3.7 percent on the same basis in that period.

Britain and China have an opportunity to influence global economic debate because Britain holds the presidency of the Group of Seven industrialized nations this year while China is president of the Group of 20 nations, Brown said. The two groups will issue a joint statement on governance and the world economy later Monday, officials said, without giving further details.

Yuan Peg

China has come under pressure from the US and Europe to loosen its decade-old peg to the dollar, which officials have claimed artificially depresses the yuan's value and gives Chinese manufacturers an unfair trade advantage. The yuan has been pegged at about 8.3 to the dollar since 1995.

Finance Minister Jin and central bank Governor Zhou Xiaochuan attended this month's G-7 meeting in London, where the group repeated a statement from 17 months ago that ``more flexibility in exchange rates is desirable.''

China shouldn't be regarded as a threat, Brown will say Monday according to extracts from a speech to be given at the Academy of Social Sciences in Beijing. It should be seen as a ``major economic player'' that has helped stabilize the world economy in recent years as the G-7 industrial nations saw economic output fall since 2000. Britain and other countries should react by boosting trade and productivity rather than resorting to protectionism, he said.

``Globalization is now rapid in its impact, so pervasive in its effects that nations will rise and fall with speed depending on their ability to adapt,'' Brown will say according to the speech. ``No country can take its future prosperity for granted. All nations must adapt and modernize or fall behind.''

Trade Deficit

Brown this morning visited the expansion of Beijing's airport, the world's biggest construction project, and will meet Chinese Premier Wen Jiabao and central bank Governor Zhou before delivering his speech. He heads to Shanghai on Tuesday and Shenzhen on Wednesday.

Obstacles to trade are ``a sterile attempt to stop the clock and resist inevitable change,'' Brown will say, according to the extracts made available by the Treasury. ``China has been responsible for keeping the world economy growing,'' he said. ``China has itself contributed more growth to the world economy in the last few years than the entire G-7 combined.''

Britain had a 731 million-pound ($1.38 billion) trade deficit with China in December as imports from China rose, according to British government statistics.

Britain's exports to China increased 9.3 percent to 655 million pounds in the three months through December, a 26 percent increase on the same period a year earlier. China produces a quarter of the world's washing machines, a third of its televisions and 90 percent of its toys.

Britain is the world's second-largest exporter of services, such as banking and legal services, with sales of 859 million pounds in 2003.