Fatah legislators approve new Palestinian cabinet
(Agencies)
Updated: 2005-02-21 10:40
Lawmakers from the ruling Fatah party on Monday approved a new Cabinet for the Palestinian Authority, party officials said, clearing the way for Mahmoud Abbas to present his new lineup to the Palestinian Legislative Council for a vote of confidence.
The approval came after a marathon meeting that lasted until 3 a.m. Monday, the officials said. The new Cabinet was to be presented to the Palestinian Legislative Council later in the day.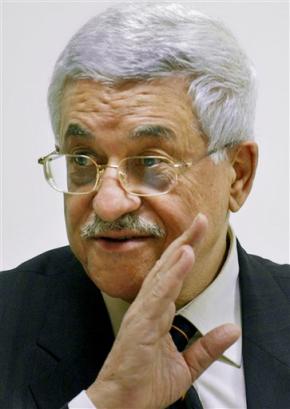 Palestinian Authority President Mahmoud Abbas gestures as he presides over a meeting of the central committee of the Fatah party at his office in the West Bank town of Ramallah, Sunday Feb. 20, 2005. [AP]

Abbas, who was elected last month to replace the late Yasser Arafat as Palestinian leader, and Prime Minister Ahmed Qureia have had bitter disagreements about the makeup of the 24-member Cabinet.

Most prominent among the new faces in the Cabinet is Nasser Yousef, who becomes interior minister in charge of security forces. Arafat, who died on Nov. 11, had resisted appointment of Yousef, an ex-general, preferring to keep control of the forces. Yousef replaces Arafat crony Hakam Bilawi in the post.

Nasser al-Qidwa, Arafat's nephew, who has been serving as the Palestinian representative at the United Nations, takes over as foreign minister, replacing Nabil Shaath, who becomes deputy prime minister.

Dalal Salama becomes social affairs minister, replacing Intissar al-Wazzir, widow of famed Palestinian fighter Abu Jihad. She had held the post since the first Palestinian Authority Cabinet was formed in 1995 but was widely accused of corruption.

Qaddoura Fares, a Fatah official, said many Fatah members complained that not enough changes were made, noting that most of the Cabinet ministers had held their positions for a long time or had filled other positions.

Qureia said that for political reasons, he could make no more changes. Some Fatah members were expected to vote against the Cabinet in a confidence vote later Monday, Fares said.




Today's Top News
Top World News

Non-government group plans to lease, develop Diaoyudao




FM: US-Japan statement on Taiwan wrong




Senior Chinese official consults DPRK




Private airlines ready to take off in China




Medical research on stem cells to continue




Wet nurse plan dumped in its infancy