Ice skating proves to be deadly sport
(Xinhua)
Updated: 2005-02-21 09:49
The past weekend was a bad time to be on the ice in China: Nine people were killed and 18 injured in two separate skating rink tragedies.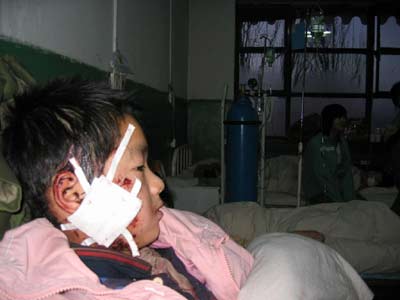 An injured child receives treatment in a hospital in Shanshan County, Northwest China's Xinjiang Ugur Autonomous Region Sunday February 20, 2005. Two men chopped at the children playing at a local skating rink, killing 6 and injuring 8 others. One suspect, a drug addict, has committed suicide, local police said. [newsphoto]


Two young men broke into an indoor skating rink in Xinjiang Uygur Autonomous Region and killed six children and seriously injured at least eight others, local sources said.

The attack took place at 3pm at the Shanshan County Commerce and Trade Center. The injured children were rushed to a local hospital.

One of the murderers, a mentally disordered farmer, jumped off the building and killed himself and the other was arrested by police.

Local police said the farmer, Yusufu Ismail, was from Pizhan Township. He was addicted to drugs 10 years ago and displayed homicidal killing impulses on many occasions, police said.

According to the preliminary investigation, the farmer was unstable and hostile toward society.

Further investigation is still under way.

On Saturday, three people were killed and 10 were injured in a fire that gutted an indoor skating rink in Shenzhen in Guangdong Province.

The fire broke out at the ground-floor rink at 6:20pm. One person died at the scene from burns and two others succumbed later in a local hospital.

Two of the other victims suffered serious injuries, according to local doctors.

Survivors said they heard an explosion before the rink went dark and flames began to spread.

Six engines and 25 firemen were sent to the accident site. They were able to bring the fire under control about 25 minutes later.





| | |
| --- | --- |
| | |
| Jay Chou in love with Taiwan No.1 beauty news anchor | |

| | |
| --- | --- |
| | |
| Zhang Ziyi as cover girl in US | |

| | |
| --- | --- |
| | |
| Beyonce booked for big night at Oscars | |
Today's Top News
Top Life News

DPRK renews hope for six-party dialogue




Chirac, Bush discuss China arms embargo




Income gap grows wider in Beijing




Ministers stress Sino-UK co-operation




Economy cooling, price figures indicate




China vows to keep its environment clean