British official to talk trade in China
(Agencies)
Updated: 2005-02-21 09:08
British Finance minister Gordon Brown was heading to China for a largely trade-based visit, but one also seen as a chance for Tony Blair's presumed heir to introduce himself on a key world stage.
Brown, who has been chancellor of the exchequer since Prime Minister Blair first took power in 1997, was due to arrive in Beijing on Monday before heading to China's eastern economic powerhouse of Shanghai the next day.
After a stopover in Shenzhen, the booming border city just across from Hong Kong, Brown was scheduled to fly home on Wednesday.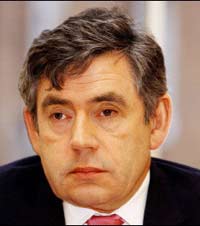 British Finance minister Gordon Brown. [File/AFP]
Treasury officials in London released only limited details of his itinerary, but in keeping with Brown's government brief the visit was expected to be largely focused on trade and related issues.
Britain had a trade deficit of just under 500 million pounds (725 million euros, 950 million dollars) with China in 2003, the last set of full data available, a figure London is keen to chip away at in the coming years.
The bulk of Britain's exports to China are in the form of financial services and the like, sectors still heavily regulated in China despite its accession to the World Trade Organisation (WTO) in December 2001.
Brown would be likely to raise the issue of greater access to markets such as insurance, which would benefit British firms, analysts said.
"I should think that would be a big issue, as there's quite a lot of British involvement in the insurance sector," said Professor David Wall from the Faculty of Oriental Studies at Cambridge University.
"WTO rules are always open to interpretation, and I have a feeling that there's a growing frustration that they are being interpreted a bit too tightly," he saud.
Brown was also expected to raise the issue of China's currency, the yuan, which for the last decade has been pegged at a fixed rate of 8.28 per US dollar, a level many international critics complain makes it seriously undervalued.
The US government is under particular pressure from angry exporters, and Brown, whose country currently holds the rotating presidency of the Group of Eight industrialised nations' club, would be expected to echo members' worries.
However, the exchange rate "just isn't an issue for Britain as it is for the US, to be honest", said Stephen Green, formerly head of the Asia Programme at the Royal Institute of International Affairs think tank in London, now senior economist at Standard Chartered bank in Shanghai.
"The yuan will likely be discussed formally, but there's no domestic audience in the UK that Gordon Brown has to speak to," he added.
Beyond the economic agenda, Brown's visit is also of note due to the fact that he might well be Britain's next leader.
The chancellor has long been seen as Blair's heir-in-waiting, and if their Labour Party, as expected, wins a general election likely in May, speculation will mount that Blair could eventually stand down in favour of Brown.
While the pair remain a formidable political team, repeated reports of a breakdown in their relationship could even prompt Brown to try and topple his leader at some point, some pundits have speculated.
Both the Chinese and British officials had been "keen" to get Brown over to the country for some time, Green said.
This was partly to discuss important economic matters, "but also with an eye on creating some of these relationships which obviously are going to be important in the future", he added.
"They will be aware that he's in line for the throne."
Chinese officials would also know of Brown's work in promoting progressive social policies with the assistance of markets, something reflected in China's own efforts to further liberalise its economy.
"That kind of combination is what many in Beijing would like to re-create in China," Green said.
"Chinese officials are very interested in some of the things he has been doing on public-private partnerships, on pushing social policy from a more market perspective. They're very interested in those sorts of ideas."
Today's Top News
Top World News

Non-government group plans to lease, develop Diaoyudao




Private airlines ready to take off in China




Senior Chinese official consults DPRK




Medical research on stem cells to continue




US-Japan statement on Taiwan opposed




Eight suicide bombings in Baghdad kill 55