Gunmen take Haiti ex-Prime Minister from prison
(Agencies)
Updated: 2005-02-20 10:14
Gunmen stormed Haiti's main prison on Saturday and drove away with jailed former Prime Minister Yvon Neptune and other inmates linked to ousted ex-President Jean-Bertrand Aristide, witnesses said.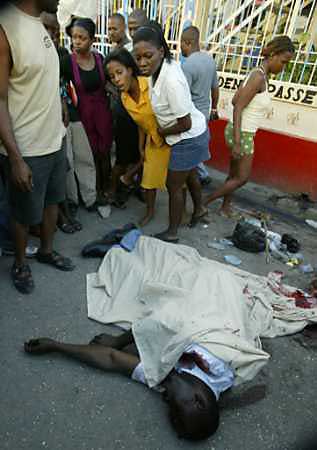 Two girls look at the body of slain prison guard Pierre Marie Gurrier Romeus, killed outside the National Penitentiary, in Port-au-Prince, Haiti, on February 19, 2005, only a few hours after scores of armed men broke into the institution and freed around 480 prisoners, including former Prime Minister Yvon Neptune. Witnesses said the armed men were from the gangs claiming allegiance to former President Jean-Bertrand Aristide, who was overthrown on Feb. 29, 2004. Neptune was his prime minister. [Reuters]


Neptune and former Interior Minister Jocelerme Privert appeared to have been taken out at gunpoint by the attackers, who sent poorly armed prison guards fleeing the National Penitentiary in Port-au-Prince, they said.

A police source speaking on condition of anonymity said up to 500 of the prison's 1,200 inmates may have escaped during the attack. One off-duty prison guard was killed.

"I saw three gunmen escorting Neptune and several other prisoners and force them to get into the back of a double-cab white pickup," said Jacques Dameus, who said he was in front of the prison at the time.

"When they arrived at the gate of the National Penitentiary, Neptune did not want to walk any further. One gunman raised his weapon and forced him to walk and get into the pickup," Dameus told Reuters.

Neither the police nor the interim government, which jailed Neptune and Privert on charges of violence, made any statement on the prison break.

But deputy public prosecutor Carvest Jean said afterward that neither Neptune nor Privert, who their supporters say are victims of political persecution against allies of Aristide, remained in the prison.

Residents of the area said the heavily armed gunmen arrived in three vehicles. They entered the prison shooting and guards fled.

Bullet casings littered the ground outside the prison later and bullet holes pockmarked the walls of nearby houses.

International police who are part of a 7,000-strong Brazilian-led U.N. force trying to keep the peace in the chaotic and impoverished Caribbean country arrived later and began interviewing witnesses.

Several witnesses mentioned the white pickup truck and said its license plate had been folded over to obscure its number.

A woman said some of the attackers wore T-shirts with "Haitian National Police" written on them while the rest were in casual clothes.

The guard who was killed, Omeus Guerrier, 25, was outside the jail at the time of the attack.

In addition to Neptune and Privert, who had been jailed for several months without being indicted, witnesses said the gunmen took away a former soldier named Anel Belzaire, who had been arrested after weapons were found in his car.

Almost a year after Aristide fled an armed revolt -- his stature as the father of Haitian democracy and champion of the country's poor sullied by charges of despotism and corruption -- Haiti remains torn by political violence.

The government is pitted against street gangs still loyal to Aristide, and its once warm relations with former soldiers who helped lead the revolt against Aristide have chilled under their repeated demands for the re-establishment of the army.




Today's Top News
Top World News

Eight suicide bombings in Baghdad kill 55




US, Japan: Taiwan a common security issue




China to become 'developed country' in 2080




Industrial growth rate drops slightly




China slams US remarks on military




Mainland schemes 'long-term benefits' for HK