Italians march to demand release of the kidnapped
(Xinhua)
Updated: 2005-02-20 08:52
Thousands of peace demonstrators marched through the center of Rome on Saturday to demand the release of Giuliana Sgrena, an Italian journalist kidnapped in Iraq two weeks ago.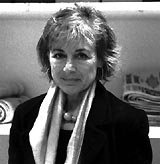 This undated black and white image released in Rome, Friday Feb. 4, 2005 by 'Il Manifesto' newspaper shows Giuliana Sgrena, a journalist for the Italian newspaper. Sgrena was seized Friday in Baghdad by gunmen who blocked her car near the Baghdad University compound at the Jadriyah bridge, located across the Tigris river from the Green Zone, police said. [AP]

The march was organized by Sgrena's leftwing daily Il Manifesto,which supported Sgrena's dramatic recent video call for Italy to pull out of Iraq, and the organizers said about half a million people took part in the rally.

Italy's center-left opposition, trade unions, peace movements and thousands of ordinary people joined the march which the anointed leader of the opposition coalition, former European Commission president and ex-Italian Prime Minister Romano Prodi, said "testifies how close an entire people are to Ms Sgrena."

Prodi said it was his "duty" to be at the march, which he hoped would voice "a prayer for peace."

Piero Fassino, leader of the largest opposition party, the Democratic Left, said: "We are here, united, for Giuliana. It is away to express solidarity for all those who are in her situation, solidarity for their relatives and, finally, to say that democratic Italy is against terrorism."

Communist Refoundation leader Fausto Bertinotti said it was "not a political event but an attempt to save a woman's life."

Other leftwing leaders stressed that the march was "not a partisan event" and "the utmost unity" was needed against terrorism.

Leading the march, Sgrena's elderly parents said they were "more optimistic today, seeing all these people."

The leftist wing of the opposition coalition wants Italy to pull out from Iraq immediately while the rest of the coalition has set a June 30 deadline.

Sgrena was seized on Feb. 4 while driving away from a mosque near Baghdad where she had been interviewing Sunni Muslims.

In a video that was released for the first time by the captors on Wednesday, Sgrena emotionally urged Italian troops to leave Iraq and repeatedly appealed to her companion Scolari to save her.

Italy has sent some 3,000-strong contingent to Iraq, and Italian Prime Minister Berlusconi stresses that the Italian troops are there on a peacekeeping mission only.




Today's Top News
Top World News

Eight suicide bombings in Baghdad kill 55




US, Japan: Taiwan a common security issue




China to become 'developed country' in 2080




Industrial growth rate drops slightly




China slams US remarks on military




Mainland schemes 'long-term benefits' for HK