More Iraqis killed on Shiite holy day
(Agencies)
Updated: 2005-02-19 22:38
Five blasts in Iraq, including at least four suicide bombings, killed at least 12 people Saturday as Shiite Muslim worshippers around the country celebrated the holiest day of the year. The attacks came one day after a string of bombings killed at least 36 people.
Saturday's attacks, during the religious festival of Ashoura, came despite stepped-up security around the country. Authorities had hoped to prevent a repeat of last year's attacks during Ashoura, in which insurgents killed at least 181 people in twin blasts in Karbala and Baghdad.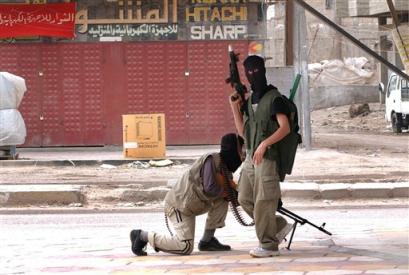 Insurgents engage in street fighting in Ramadi, an insurgent stronghold 113 kilometers (70 miles) west of Baghdad Saturday, Feb. 19, 2005. [AP]
At least four blasts were suicide bombings, while the fifth occurred inside a public bus in Baghdad, killing at least one child and five adults. The bus was stopped in the northern Kadhimiya neighborhood, which is predominantly Shiite, but there were no further details on the explosion or casualties.
The attacks occurred as a five-member U.S. congressional delegation, including Sens. Hillary Clinton, D-N.Y., and John McCain, R-Ariz., met with Iraqi government officials in Baghdad's heavily fortified Green Zone.
Iraqi police also said they had arrested two leaders of the insurgency, including a top aide to Iraqi al-Qaida leader Abu Musab al-Zarqawi. The suspects allegedly played key roles in the insurgency in Baqouba and Mosul.
The string of blasts started Saturday when a suicide bomber walked into a tent outside a Sunni mosque in western Baghdad and blew himself up, killing at least three people and injuring 10, police captain Hussain al-Ani said. About 50 people were inside the tent attending a funeral.
It was unclear why the attacker blew himself up inside a tent full of Sunnis outside the Fatah Pasha mosque, but similar structures were set up outside Shiite mosques for the Ashoura celebration. Most attacks by insurgents, who are believed to be predominantly Sunni extremists, are aimed at Shiites.
Another suicide bomber who tried to kill a group of Iraqi National Guardsmen near a northwest Baghdad mosque detonated prematurely and killed only himself.
A third suicide bomber blew up a car outside an Iraqi National Guard base in Baqouba, 35 miles northeast of Baghdad, killing one guardsman and wounding another, police Col. Muthafar Shahab said.
A fourth suicide bomber blew up his car at an Iraqi army checkpoint in Latifiya, 20 miles south of the capital, killing two Iraqi soldiers, an army officer said on condition of anonymity.
Gunmen also holed up in a Baghdad building and opened fire on a funeral procession in which mourners carried coffins of some of those killed Friday in a bombing at the capital's al-Khadimain mosque, witnesses said.
Iraqi National Guard troops guarding the procession foiled that attack, returning fire and capturing one of the assailants, said Sgt. Ali Hussein. No casualties were reported.
Ashoura marks the death of Imam Hussein, the grandson of the prophet Muhammad, in a seventh century battle for leadership of the Islamic world.
Authorities, bracing for violence, stepped up security around the country. In Karbala, vehicle traffic ¡ª even motorcycles, bikes and pushcarts ¡ª was prohibited in an attempt to avert bomb attacks.
Iraqi police said Saturday they arrested two leaders of the insurgency, including a top aide to al-Zarqawi.
Officers in western Baqouba arrested Haidar Abu Bawari, also known as the "Prince of the Holy Warriors," during a raid on a house, police chief Abdel Molan said. The suspected was described as a top aide to al-Zarqawi and the man behind the insurgency in Baqouba.
"We found with him different kinds of weapons, including mortars, explosives, automatic weapons and computers in addition to photocopying machines, which are used in forging identification cards for police officers," Molan told The Associated Press.
Police said they were pursuing Bawari's brother-in-law, who is a close aide to al-Zarqawi.
The Iraqi government also said it arrested a key insurgent in the northern city of Mosul who also was a former member of Saddam Hussein's Baath party, an announcement said.
Harbi Abdul Khudair al-Mahmoudi, 50, also known as Abu Nor, was arrested Thursday when someone turned him in, the interim government said. One of his aides also was arrested.
Al-Mahmoudi, a former Iraqi air force pilot, formed an Islamic militant organization called "The Jihadi Salafi group," which carried out several attacks against the Iraqi National Guard.
"Documents which show dates of attacks he planned in Mosul were seized with him," the government statement said.
Al-Qaida in Iraq is believed to be behind series of bloody attacks against American forces, Iraqi national guardsmen and Shiites.
In a reminder of the dangers facing American troops here, a U.S. soldier was killed Friday on patrol in northern Iraq and a second was killed in the south, the military said. Three other American soldiers were killed in separate attacks in the country's north Wednesday and Thursday.
Insurgents staged five attacks Friday, killing at least 36 people in the deadliest day since the historic Jan. 30 elections won by the Shiite ticket, the United Iraqi Alliance. Shiites blamed the violence on radical Sunni Muslim insurgents, who have staged car bombings, shootings and kidnappings to try to destabilize Iraq's new government.
"Those infidel Wahhabis, those Osama bin Laden followers, they did this because they hate Shiites," said Sari Abdullah, a worshipper at Baghdad's al-Khadimain mosque who was injured by shrapnel from the explosion Friday. "They are afraid of us. They are not Muslims. They are infidels."
A militant Web site posted claims of responsibility from the al-Qaida affiliate in Iraq for the Baqouba bombing and an attack on a police checkpoint in Baghdad. There was no way to verify the claims.
Friday's attacks began with two suicide bombings outside mosques in predominantly Shiite neighborhoods of Baghdad.
The first explosion at the al-Khadimain mosque killed 15, while the second, at al-Bayaa, killed 10, an official at Baghdad's al-Yarmouk Hospital said on condition of anonymity. Both bombings occurred outside the mosques while people inside prayed.
Another explosion at a Shiite religious procession, killing two and injuring five, according to Iraqi police Lt. Waed Hussein. A fourth attack, involving a suicide bomber, targeted an Iraqi police and National Guard checkpoint in a Sunni neighborhood, killing at least one policeman.
Later Friday, a car bomb exploded outside a Shiite mosque in Iskandariyah ¡ª 30 miles south of the capital ¡ª where hundreds had gathered, killing eight people and wounding 10, doctors said.
Mouwaffaq al-Rubaie, the national security adviser for the interim government, accused the Jordanian-born al-Zarqawi and former Baath party members of trying to provoke a sectarian civil war.
"It's a paradoxical idea when they claim that they are fighting the infidels and at the same time they kill Muslims during Friday prayers," he said.
He said Shiites, who make up about 60 percent of Iraq's estimated 26 million people, would not call for retaliation against the minority Sunnis favored by Saddam's regime.
"I am happy and proud of the people's reactions," al-Rubaie said. "Those who lost their sons and relatives didn't call for retaliation against Sunnis, which reflects their awareness and understanding of what is going on."
Today's Top News
Top China News

Beijing opposes US-Japan statement on Taiwan




Eight suicide bombings in Baghdad kill 55




Building harmonious society CPC's top task




Experts cry for checking before marriage




Industrial growth rate drops slightly




Bush harbors no bitterness toward Chirac