Mine blast rings bell for awareness of safety
(Xinhua)
Updated: 2005-02-19 16:30
When thousands of millions of Chinese were still celebrating the Lunar New Year, Monday, 244 miners of Haizhou Coal Mine based in Fuxin, a city in northeast China's Liaoning Province, were trapped after a huge gas explosion.
Only 29 miners were rescued and by Friday 213 miners were confirmed dead and their remains found. Two others remain missing.
Monday's tragedy, considered the largest since the founding of the People's Republic in October 1949, along with other smaller but frequent mine accidents, have put the effectiveness of the country's coal mine security system into question.
The six months before the Haizhou coal mine blast saw two otherserious coal mine accidents with the death toll exceeding 100. In2004 alone, more than 6,000 people were killed in mine accidents across China.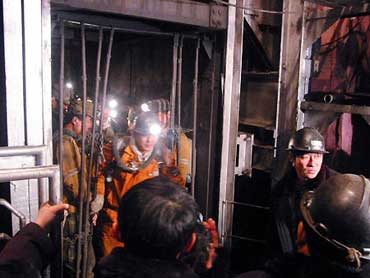 Rescuers walk out of elevator after a round of searching on February 15, 2005. [newsphoto]
During his New Year's visit to northwest China's Shaanxi Province, where 166 miners were killed in a major gas explosion onNov. 28 last year in Tongchuan, Chinese Premier Wen Jiabao vowed to improve production safety this year.
His promise was echoed by a target set Friday by the national meeting on production safety. Officials aim to reduce the death toll of mining accidents by 3 percent this year.
But what factors really harm the effectiveness of China's coal mine safety system?
Liang Jiakun, deputy director of the State Administration of Work Safety, cited five factors: mining in complicated land strata,outdated technologies, rare investment in improving mine safety, poorly educated miners who violate production rules and over-production fueled by an expectation of high profits.
The State Council, the highest governing body of China, set up a special investigation team Thursday to look into the major gas explosion that took place in Fuxin, a city in northeast China's Liaoning Province, on Monday.
The team is led by Wang Xianzheng, director of the State Administration of Work Safety (SAWS) and is staffed by five other officials, including Zhang Wenyue, governor of Liaoning Province, and Zhao Tiechui, deputy director of SAWS, as deputy heads.
Cause of the fatal Haizhou coal mine gas blast is yet to be determined.
However, experts say the Haizhou tragedy has exposed many problems that have threatened and tormented the country's coal mine safety system.
On top of the list are disorganized administration and a lack of regulations about mine use, safety and dealing with disasters and local protectionism, according to the experts.
Today's Top News
Top China News

Beijing opposes US-Japan statement on Taiwan




Eight suicide bombings in Baghdad kill 55




Building harmonious society CPC's top task




Experts cry for checking before marriage




Industrial growth rate drops slightly




Bush harbors no bitterness toward Chirac