Shiites in Iraq attacked in five bombings
(Agencies)
Updated: 2005-02-19 09:14
Many kneeling in prayer, Shiite Muslims were attacked in their mosques and on the streets Friday on the eve of their holiest day, with five bombings killing 36 people in the deadliest day in Iraq since the Jan. 30 national elections.
There were no immediate claims of responsibility for the blasts — three of them suicide attacks — in Baghdad and Iskandariyah, south of the capital. But Shiites blamed radical Sunni Muslim insurgents, who have staged car bombs, shootings and kidnappings to try to destabilize Iraq's reconstruction.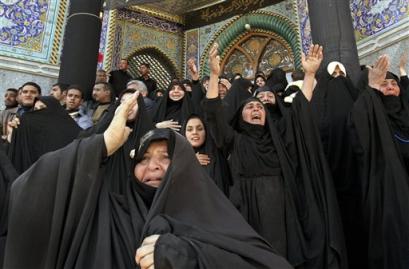 Women wail to signify grief over the death of Imam Hussein in Karbala, Iraq Friday, Feb. 18, 2005 in the lead-up to the day of Ashoura, the tenth day of the month of Muharram on Saturday. Imam Hussein, grandson of the Prophet Mohammed, was beheaded in Karbala in 680 AD in a battle over the line of succession to the Prophet Mohammed, and the event is commemorated by Shiites today as the festival of Ashoura. [AP]
"Those infidel Wahhabis, those Osama bin Laden followers, they did this because they hate Shiites," said Sari Abdullah, a worshipper at Baghdad's al-Khadimain mosque who was injured by shrapnel from the explosion. "They are afraid of us. They are not Muslims. They are infidels."
The imam at the al-Khadimain mosque used the minaret's loudspeakers to appeal for blood donations.
At the al-Bayaa mosque in the capital, quick action from a security guard may have prevented more bloodshed. Amer Mayah said he opened fire on a man — apparently a second suicide attacker at the mosque — who was trying to pull two grenades from his pocket, "and immediately he exploded."
The attacks happened on the eve of Ashoura, which marks the 10th day of the Islamic holy month of Muharram and the death of Imam Hussein, the grandson of the prophet Muhammad, in a 7th century battle for leadership of the Islamic world.
Similar attacks last year during Ashoura killed 181 people in Baghdad and Karbala, a city that is holy to Shiites.
Mouwaffaq al-Rubaie, the national security adviser for the interim government, accused Jordanian-born terror suspect Abu Musab al-Zarqawi and former Baath party members of trying to provoke a sectarian civil war.
"It's a paradoxical idea when they claim that they are fighting the infidels and at the same time, they kill Muslims during Friday prayers," he said.
He said Shiites, who make up 60 percent of the population, would not call for retaliation against the minority Sunnis who were favored by Saddam Hussein's regime.
"I am happy and proud of the people's reactions," al-Rubaie said. "Those who lost their sons and relatives didn't call for retaliation against Sunnis, which reflects their awareness and understanding of what is going on."
Walid Al-Hilly, a leading figure of the Shiite-led Dawa Party, said the attacks would not stop the Shiites from trying to cooperate with Sunnis and other minorities in a new government.
"They kill unarmed men, women and children who want to glorify the ceremonies of Ashoura. These terrorist actions will not intimidate us nor make us change the way that we choose freedom from tyranny and oppression," he told Al-Jazeera television. "We chose the path of brotherhood, cooperation and unity between Sunnis, Shiites, Kurds, Shabak, Turkomen and Christians and all other sects."
The attacks, which wounded dozens, made Friday the deadliest day since last month's elections for a new national assembly. The Shiite ticket, the United Iraqi Alliance, won 48 percent of the vote in Iraq's first democratic balloting, while Sunnis mostly did not vote.
Shiite politicians are negotiating over whom to nominate for prime minister. Former Pentagon favorite Ahmad Chalabi, a secular Shiite, claimed in an Associated Press interview on Friday that he had enough support to best the other leading contender, interim vice president Ibrahim al-Jaafari.
Despite Chalabi's confidence, much depends on which of the two 58-year-old men receives the blessing of Grand Ayatollah Ali al-Sistani, spiritual leader of Iraq's Shiite Muslims.
Chalabi tried to avoid the issue, insisting al-Sistani does not involve himself in such details.
"He encouraged people to have elections and it is now up to the various parliament groups to make choices of people who will emerge in the government. He isn't involved in the details," Chalabi said.
Chalabi also said that if he's chosen prime minister, he would seek to establish an agreement to govern the presence of U.S. troops, and open the heavily fortified Green Zone, now housing government buildings and the U.S. and British embassies, to the Iraqi people.
In a reminder of the dangers facing American troops here, a U.S. soldier was killed Friday on patrol in northern Iraq and a second was killed in the south, the military said. Three other American soldiers were killed in separate attacks in the country's north on Wednesday and Thursday.
Friday's attacks on Shiites began with two suicide bombings outside mosques in predominantly Shiite neighborhoods of Baghdad.
The first explosion at the al-Khadimain mosque killed 15, while the second, at al-Bayaa, took 10 more lives, an official at Baghdad's al-Yarmouk Hospital said on condition of anonymity. The al-Khadimain bombing occurred just outside the entrance to the mosque as people were still inside praying. The al-Bayaa attack also took place outside the mosque, as prayers were about to end.
Another explosion hit a Shiite religious procession, killing two and injuring five, according to Iraqi police Lt. Waed Hussein. A fourth attack, involving a suicide bomber, struck an Iraqi police and National Guard checkpoint in a Sunni neighborhood, killing at least one policeman.
Later Friday, a car bomb exploded outside a Shiite mosque in Iskandariyah — 30 miles south of the capital — where hundreds had gathered, killing seven people and wounding 10, doctors said.
Iraq's government had partially sealed its land borders from Friday to Tuesday to avoid bloodshed. Exceptions will be made for trucks carrying food or oil. Baghdad's international airport will remain open for flights, aviation industry officials said.
A little known insurgent group, the Mujahedeen in Iraq, released a videotape showing two Indonesian journalists who disappeared Feb. 8. The group threatened to kill them if the Indonesian government did not explain why the journalists were in Iraq.
Indonesian President Susilo Bambang Yudhoyono appealed for the release of 26-year-old reporter Meutya Viada Hafid and Budiyanto, 36, a cameraman.
"At this moment, they were reporting on our brothers and sisters in Iraq, because we in Indonesia — the world's largest Muslim country — are very concerned about the situation in which the people of Iraq find themselves," the president said.
Today's Top News
Top World News

Experts: China to become 'developed country' in 2080




Official: Theatre construction to continue




China, US agree on North Korea nukes




China slams US remarks on military




Shiites in Iraq attacked in five bombings




Death toll in coal mine blast rises to 213