China, US agree on North Korea nukes
(Agencies/Xinhua)
Updated: 2005-02-19 01:19
SEOUL, South Korea - The United States and China agree that North Korea must end its nuclear ambitions and resolve the standoff through six-nation talks, Washington's top envoy on the issue said Friday, as efforts to restart the negotiations gained momentum.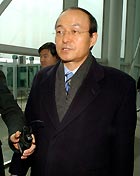 Song Min-soon, South Korea's deputy foreign minister, answers a reporter's question at Incheon International Airport after arriving from Beijing February 18, 2005. [Reuters]

Reviving the stalled talks has taken on greater urgency since North Korea's explosive but unconfirmed declaration last week that it has become a nuclear power. The talks involve the two Koreas, the United States, China, Russia and Japan.

North Korea "has made a big mistake in developing these nuclear programs ... and we are to help them overcome this mistake," U.S. envoy Christopher Hill said in Seoul after a visit to Beijing Thursday to meet with Chinese officials.

"But to help them, they are going to have to help themselves, and the first issue they need to do is coming to the table," said Hill, who is also U.S. ambassador to South Korea.

Hill, who was appointed envoy for the nuclear talks Monday, said he and Chinese officials were in "absolute agreement on the need for North Korea to come back to the process."

China announced Thursday it would send a top Communist Party official to North Korea this week, although it did not give an exact date for the trip by Wang Jiarui, head of the party's international department.

Washington hopes China will use its economic influence on North Korea to persuade it to stop developing nuclear weapons.

North Korea says it is boycotting the talks until Washington abandons what it calls a hostile policy toward the North.

President Bush on Thursday said diplomacy was the right strategy.

"Now is the time for us to work with friends and allies who have agreed to be part of the process to determine what we're jointly going to do about it," he said at a news conference in Washington.

China has hosted three inconclusive rounds of six-nation talks since 2003. North Korea refused to attend a fourth round, scheduled for last September.

Confronting its own nuclear issues, South Korea on Friday said it will enact a new law to tighten controls over nuclear activities after secret experiments by South Korean scientists embarrassed the country last year.

The Ministry of Science and Technology will complete a draft this month and present a bill to the National Assembly in May, a government statement said.

The bill "aims to help prevent nuclear materials from being diverted for use in nuclear weapons or other nuclear explosive devices," the statement said. "It will also outlaw any development of nuclear weapons by the government, groups or individuals and support for such activities."

South Korea is a signatory to international treaties that forbid the development of nuclear weapons. But the country's nuclear activities came under scrutiny last year when it admitted that its scientists conducted plutonium and uranium experiments in 1982 and 2000.

In November, the United Nations' International Atomic Energy Agency criticized the country for the experiments but refrained from taking tougher measures, including referral to the U.N. Security Council.

Although plutonium and enriched uranium are two main elements of nuclear weapons, an IAEA report said there was no evidence that the experiments were applied to an arms program. South Korea has repeatedly said the experiments were unauthorized and were for scientific research only.

But North Korea accused the U.N. nuclear watchdog and the United States of applying "double standards" and giving "tacit approval" to South Korea to pursue a nuclear weapons program.

Also, South Korea said it will begin sending electricity across its heavily armed border with North Korea next month to power a joint-venture industrial park despite heightened nuclear tensions.

The industrial complex in Kaesong, a North Korean town just north of the mine-strewn border, is the best known among the handful of joint economic ventures between the two countries.

DPRK willing to resume nuclear talks when conditions met

The Democratic People's Republic of Korea (DPRK) is willing to return to talks in any form if some conditions are met, a South Korean newspaper reported on Saturday, quoting a DPRK representative to the United Nations.

In a telephone interview with the JoongAng Daily, the DPRK's deputy representative to the United Nations Han Song Ryol called on the United States to promise peaceful coexistence and noninterference in his country's internal affairs as a precondition for returning to the negotiating table.

"If these conditions are met, we are willing to attend talks in any form, including the six-party talks," he told the JoongAng Daily, one of three most influential newspapers in South Korea.

Han added that it was the main point of the Feb. 10 statement by the DPRK's Foreign Ministry in which Pyongyang declared that it suspended participation in the six-party talks on the nuclear issue for an "indefinite period."

"We have no way back now," he said, noting the country has been compelled to arm itself with nuclear weapons.

"But if the US abandons its hostile policy, we can also drop the anti-American policy. And then why do we need nuclear weapons?" Han said.

The nuclear issue on the Korean peninsula erupted in October 2002, when a senior US official said Pyongyang had told him it had a secret uranium-enriching program to make weapons.

In early 2003, the DPRK announced withdrawal from the nuclear Non-Proliferation Treaty and claimed that it had reactivated its nuclear facilities.

The DPRK, South Korea, China, the United States, Russia and Japan have held in Beijing three rounds of six-party nuclear talks aimed at peacefully resolving the nuclear issue.

However, citing US hostile policy, Pyongyang refused to attend the fourth round of the talks scheduled for September 2004.




Today's Top News
Top China News

Beijing opposes US-Japan statement on Taiwan




Eight suicide bombings in Baghdad kill 55




Building harmonious society CPC's top task




Experts cry for checking before marriage




Industrial growth rate drops slightly




Bush harbors no bitterness toward Chirac