Russia to cooperate on Iran nuke program
(Agencies)
Updated: 2005-02-18 20:54
MOSCOW - Russian President Vladimir Putin said Friday that Moscow will continue its nuclear cooperation with Iran and that he is convinced Tehran does not intend to develop atomic weapons.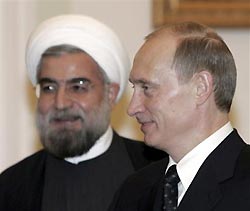 Russian President Vladimir Putin, right, stands with Iranian National Security Council chief Hasan Rohani in the Moscow's Kremlin, Feb. 18, 2005. [AP]

Iran's nuclear program is likely to be one of the top issues when Putin and US President Bush meet Thursday in Slovakia.

Moscow has helped Iran build a nuclear reactor, a project that has been heavily criticized by the United States, which fears it could be used to help Tehran develop atomic weapons.

"The spread of nuclear weapons on the planet does not aid security, it does not strengthen security. The latest steps from Iran confirm that Iran does not intend to produce nuclear weapons and we will continue to develop relations in all spheres, including the peaceful use of nuclear energy," Putin said at a meeting with Iranian National Security Council chief Hassan Rowhani.

Putin's statement indicated that the chance of agreement with Washington on Iran is minimal.

"We hope that Iran will strictly adhere to all international agreements, in relation to Russia and the international community," Putin said.

He also said that Iran's leadership had invited him to visit, and he accepted. Russian news agencies said that no date has been set.

A Russian analyst questioned whether Putin's statement was based on actual information or on expediency.

"To my mind, it's hard to find arguments to support Putin's declaration," said Anton Khlopkov, director of the PIR Center, which studies weapons issues. He noted that "Iran is potentially an important strategic partner for Russia ... (with) a whole series of coinciding interests."

Russia's nuclear chief is expected in Iran next week to sign a protocol on returning spent nuclear fuel to Russia, the only remaining obstacle to the launch of the Russian-built reactor. If the signing goes ahead as planned Feb. 26, it would pave the way for the deliveries of Russian nuclear fuel for the Bushehr reactor, which is set to begin operating in early 2006.

The protocol is aimed at reducing concerns that Iran could reprocess spent nuclear fuel from the $800 million Bushehr reactor to extract plutonium, which could be used in nuclear weapons. Moscow says that having Iran ship spent nuclear fuel back to Russia, along with international monitoring, will make any such project impossible.

Rowhani acknowledged the international community has long expressed concern about Iran's nuclear program, "but now, no one can doubt that Iran's nuclear program has a peaceful character."

Washington, however, continues to accuse Tehran of having a secret nuclear weapons program.

Russia supports European diplomatic efforts to persuade Iran to permanently abandon its uranium enrichment program. Iran has warned it will resume all nuclear activities it has suspended if talks don't make progress by mid-March.

"We think that Russia can play an important role in this process," Rowhani said.