Report: Boys' penises cut off for 'AIDS cure'
(Agencies)
Updated: 2005-02-18 16:23
Two Kenyan boys whose penises were cut off to be sold for making anti-AIDS potions have had them reconstructed in Spain, the doctor treating them said.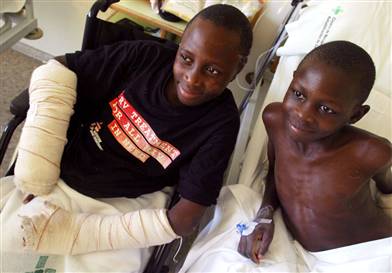 Oscar and Philip, two boys from Kenya, were mutilated as a result of a local belief that a potion made of a virgin child's penis can cure AIDS. The boys, shown here in Valencia, Spain, on Feb. 15, underwent reconstructive surgery with the help of a Spanish surgeon. [ABC]


The adolescent boys, from a remote region near the border with Uganda, were mutilated after being given drugged food or drink by strangers.

"They had attacked them to cut off their penises to sell ... for making a type of potion which according to a local belief cures AIDS," Doctor Pedro Cavadas, from the Levante Rehabilitation Center told radio station Cadena Ser.

One of the boys also lost an ear trying to fend off his attackers after regaining consciousness during the mutilation.

"It seems that the dose of medication that they gave him to knock him out ... was badly calculated, and so he woke up in the middle of the attack," Cavadas said.

"He then tried to defend himself and because of this has a lot more injuries."

Cavadas runs a foundation that carries out all types of reconstructive surgery in Kenya.

The foundation's Web site said two people had been arrested in connection with penis mutilation, although it was not clear if they were linked to the attacks on the 12 and 14-year-old boys.

"The practice of mutilating the penises of virgin boys is not a tradition among Kenyan tribes. The object of this mutilation was to make a potion to cure HIV/AIDS," the Web site said.

Cavadas, who noted this type of attack was rare in Kenya, said the boys had been transformed by their surgery.

"They are fantastic, happy, their faces have changed and their lives have changed. They don't have to use a catheter ... and they can live like children, messing around and being naughty."

| | |
| --- | --- |
| | |
| London Fashion Week | |

| | |
| --- | --- |
| | |
| Delicacy at temple fair: Insects on skewers | |

| | |
| --- | --- |
| | |
| Julia Roberts releases photos of twins | |
Today's Top News
Top Life News

US could lose sci-tech competitive edge




Middle class society a long way off in China




Official plans DPRK visit on nuclear impasse




US official says China's future crucial




Project aims to revitalize Silk Road trade ties




Expert: China overtakes US as top consumer