British fishing boats 'kill 2,000 dolphins a year'
(Agencies)
Updated: 2005-02-18 16:04
British and French fishing boats could be killing more than 2,000 dolphins a year, environmental scientists have warned.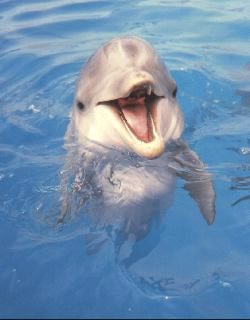 Campaigners renewed calls for a halt to pair-trawling for bass yesterday after a report highlighted the growing number of dolphins caught in nets in the English Channel.
They fear that the species could become extinct in the Channel.
The study by the Whale and Dolphin Conservation Society (WDCS) estimates that 9,700 common dolphins were living in the main fishing ground last winter.

But pair-trawlers, which tow large nets between two boats, have been blamed for killing hundreds of them.
Last September, the Government banned pair-trawling for bass within 12 miles of the coast of south-west England, but environmentalists say this does not go far enough. Last week, Greenpeace launched a High Court challenge to the Government, seeking a ban on all pair-trawling for bass within 200 miles of the UK.
The environmental group claims that, under the EU Habitats Directive, the Government is obliged to take swift action to protect the dolphin population. Sarah Duthie, the head of Greenpeace's oceans campaign, feared dolphins could disappear from the Channel.
"Your children might never see dolphins off the south coast unless the Government bans pair-trawling for sea bass now," she said. Ms Duthie accused the Fisheries minister, Ben Bradshaw, of "consistently failing" to take "meaningful action" to protect dolphins.
The Greenpeace ship, Esperanza, was to leave Falmouth in Cornwall yesterday to investigate the practices of UK and French pair-trawlers. WDCS researchers will also be on board to study conservation and welfare threats to whales, dolphins and porpoises.
Ali Ross, a WDCS fisheries specialist, said: "The sea bass trawl fishery has been monitored and found to be highly destructive to dolphins; this cannot be allowed to continue. We also suspect that other fisheries in the area are guilty and these must be assessed and urgent preventive action must be taken where problems are found." A spokeswoman for the Department for Environment, Food and Rural Affairs said: "The UK has been at the forefront of trying to preserve dolphins and has undertaken research over a number of years."
A government-funded study found that 169 dolphins were killed as "by-catch" in the bass fishing season, from November 2003 to April 2004, an increase of 30 dolphin deaths compared to the previous year.
The incidental capture in fishing nets of dolphins, porpoises and other species is a problem worldwide; the phenomenon is estimated to kill about 300,000 whales, dolphins and porpoises each year. Advocates of a ban say the scale of the deaths can be seen on beaches every year. Mr Bradshaw's call to close the south-west England bass fishery to pair-trawlers was rejected by the European Commission in August. Most trawlers in the fishery are French.
| | |
| --- | --- |
| | |
| London Fashion Week | |

| | |
| --- | --- |
| | |
| Delicacy at temple fair: Insects on skewers | |

| | |
| --- | --- |
| | |
| Julia Roberts releases photos of twins | |
Today's Top News
Top Life News

US could lose sci-tech competitive edge




Middle class society a long way off in China




Official plans DPRK visit on nuclear impasse




US official says China's future crucial




Project aims to revitalize Silk Road trade ties




Expert: China overtakes US as top consumer