Expert panel: US could lose sci-tech competitive edge
(Agencies)
Updated: 2005-02-18 15:26
The US share of worldwide high-tech exports has dropped from 31 percent to 18 percent over the past 20 years, in what could foreshadow the loss of the country's leading position in science and technology, a blue ribbon expert panel warned.
The Task Force on the Future of American Innovation, created by leading US companies and scientific and business associations, sounded the alarm Wednesday with a report indicating that the United States was gradually slipping as the world leader in scientific and technological research.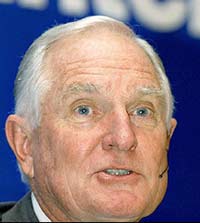 Craig Barrett, chief executive officer of Intel Corporation and a member of the Task Force on the Future of American Innovation which said the US could lose its leading position in science and technology.[AFP]
"US employers are being forced to look overseas, as they face shortages of qualified technically trained talent in the US," said Craig Barrett, chief executive officer of Intel Corporation, a member of the task force.
"If this trend continues, new technologies, and the constellation of support industries surrounding them, will increasingly develop overseas, not here," he added.
The signs of trouble outlined in the report range from a slowdown in the growth of technical research to stagnant government funding for fundamental sciences.
As the US share in global high-tech exports was dropping, China, South Korea and other emerging Asian economies boosted theirs from seven percent in 1980 to 25 percent in 2001, according to the study.
Moreover, high-tech industries in the 1990s grew faster in many Asian countries than in the United States.
China's output in that sector, for example, shot up more than eight-fold -- from 30 billion dollars to 257 billion over the decade -- while in the United States, it just doubled from 423 billion to 940 billion dollars.
The root cause of that phenomenon may lie in the decreasing interest in science and engineering displayed by young Americans, said the report.
Enrolment in science and engineering classes at US universities dropped 10 percent for US citizens between 1994 and 2001, according to the report, but increased by 25 percent for foreign-born students.
As a result, US institutions of higher learning are now awarding far fewer science and engineering degrees than its leading foreign competitors.
In 2000, Asian universities accounted for almost 1.2 million such degrees and their European counterparts for nearly 850,000. Meanwhile, US colleges and universities awarded that same year only about 500,000 degrees in technical fields.
Consequently, the overall US contribution to worldwide technical research has also slowed down. The US share of science and engineering papers published globally declined from 38 percent in 1988 to 31 percent in 2001, the study pointed out.
While technological article output over that 14-year period increased 13 percent in the United States, in Western Europe it went up by 59 percent, in Japan by 67 percent, while countries such as China, Singapore and South Korea it jumped a whopping 492 percent.
An upshot was that US patent applications from China, India, Singapore and South Korea grew by 759 percent over the 1990s while similar applications in the United States increased only by 116 percent, the report said.
"We shortchange research at our peril," warned John Engler, president of the National Association of Manufacturers, another task force member. "Other countries are climbing the technology ladder just as eagerly as we are."
The task force, whose other participants included software giant Microsoft, computer maker Hewlett-Packard and the national mathematical, chemical and physical societies, recommended increasing government support for fundamental research in science and engineering.
Today's Top News
Top China News

Expert panel: US could lose sci-tech competitive edge




Middle class society a long way off in China




Official plans DPRK visit on nuclear impasse




US official says China's future crucial




BBC's 'ugly' portrayal of Hirohito angers Japan




Project aims to revitalize Silk Road trade ties