Nelson Mandela touts new AIDS concerts
(Agencies)
Updated: 2005-02-18 10:15
Former president Nelson Mandela that a second charity concert will be held in South Africa as part of a worldwide music campaign to raise awareness about AIDS.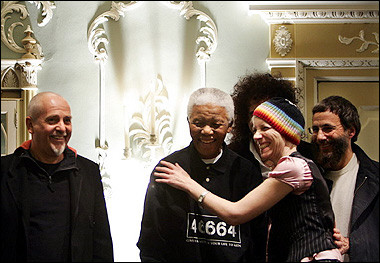 Pop musician Annie Lennox (centre R) embraces Nelson Mandela (C) while Peter Gabriel (L) and Yusuf Islam (R) look on during the launch of a photographic book. [AFP]


Mandela, who has lent his "46664" prison number to the campaign, will lead the star lineup at the concert to be held in the southern coastal town of George on March 19.

International artists such as Usher, Queen, Katie Melua and Annie Lennox are to perform along with local talent like Johnny Clegg, Danny K and Mandoza, some of whom are offering a repeat performance from the first 46664 concert held in Cape Town in November 2003.

While the Cape Town concert focussed on AIDS awareness in general, the music bash this time will look specifically at women and girls.

"We know that young women are six times more likely to be infected by the virus in comparison to men," Mandela said.

"I am calling on all South Africans, no more than ever before, to protect our young women and girls," Mandela pleaded.

Speaking a month after the death of his then only surviving son Makgatho from AIDS, Mandela complained of public apathy about AIDS, which has killed some 2.2 million people in sub-Saharan Africa, according to UN figures.

"I am concerned that not enough has been done by the public in general since the last four double six, six (46664) concert in Cape Town," he said.

"We called on the public to act and although people responded from all over the world, we know that more can be done in South Africa," Mandela said, sporting a black golf shirt bearing his prison number.

AIDS affects more than one in five adults in South Africa, with some 5.3 million people living with HIV and AIDS, according to UN AIDS, the highest caseload in the world.

Mandela also enlisted the help of actor Will Smith as master of ceremonies, the latest in a line of celebrity "ambassadors" for the 46664 campaign.

Some 40,000 people turned up for the first 46664 concert, where Mandela was introduced to the crowd by Irish rock band frontman Bono.

Mandela then said he wanted to lend the 46664 prison number that was assigned to him during the 18 years he spent on Robben Island to publicise the fight against AIDS because victims of the disease often just became numbers.




| | |
| --- | --- |
| | |
| London Fashion Week | |

| | |
| --- | --- |
| | |
| Delicacy at temple fair: Insects on skewers | |

| | |
| --- | --- |
| | |
| Julia Roberts releases photos of twins | |
Today's Top News
Top Life News

Official plans DPRK visit on nuclear impasse




Project aims to revitalize Silk Road trade ties




China ponders electricity rate hike




Liaoning mine blast compensation under way




Iraq's Shi'ites win slim majority in assembly




Negroponte selected as US intelligence chief