Jobless youths lack motivation
(eastday.com)
Updated: 2005-02-18 09:27
Many unemployed youths are sponging off their parents for a living, a report indicated.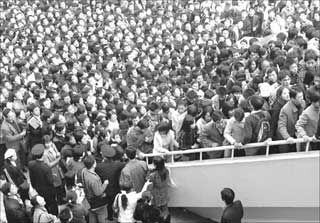 More than 20,000 university students in Xi'an, capital city of Northwest China's Shaanxi Province, wait on November 5 to confirm their registration for 2005 national examination for civil servants. There are 1,553 posts available from Shaanxi provincial government and 8,400 from central government departments. [China Daily]


The report, released by Luwan District Labor and Social Security Bureau surveyed 202 Shanghai jobless people aged between 16 and 35 last month about their employment situation.

About 70 percent said they were completely dependent on their parents for a living while only 20 percent provide for themselves by taking part-time or short-term jobs.

"Adult children without a steady job and income will naturally add a burden to any family," Weng Sishi, a bureau official, said yesterday.

Most of the unemployed in the survey, however, said they would not voluntarily take up a training program.

Twenty-three percent also said that they had no intention of looking for a job in the near future.

The survey indicated that only 16 percent of young jobless respondents hold a college degree or above. Most were graduates from high schools or polytechnic schools.

Meanwhile, 80 percent of these respondents don't have any government-licensed professional certificates.

About 70 percent never took any vocational training courses, the survey said.

But the biggest employment barrier lies in the selectiveness of job hunters, not vocational skills, Weng said.

Among all those unemployed under 35 in Luwan, office clerks and management professionals are the top wanted occupations.

Only 10 percent of the respondents said they were willing to take up positions in the service sector, such as shop assistants or waiters.

The majority of jobless males want a minimum salary of 1,500 yuan (US$181) per month, almost the same level as a university graduate.

In addition, some parents, especially those in wealthier families, want their only child to only take jobs with either high income or social status.




| | |
| --- | --- |
| | |
| London Fashion Week | |

| | |
| --- | --- |
| | |
| Delicacy at temple fair: Insects on skewers | |

| | |
| --- | --- |
| | |
| Julia Roberts releases photos of twins | |
Today's Top News
Top Life News

Official plans DPRK visit on nuclear impasse




Project aims to revitalize Silk Road trade ties




China ponders electricity rate hike




Liaoning mine blast compensation under way




Iraq's Shi'ites win slim majority in assembly




Negroponte selected as US intelligence chief