Official plans DPRK visit on nuclear impasse
By Hu Qihua (China Daily)
Updated: 2005-02-18 00:48
China will send a senior Party official to Pyongyang this week to try to bring the Democratic People's Republic of Korea (DPRK) back to the negotiation table to end the 28-month nuclear standoff.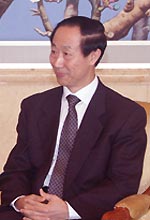 Wang Jiarui, head of the International Department of CPC Central Committee. [People.com.cn]

Wang Jiarui, head of the International Department of the Communist Party of China (CPC) Central Committee will lead a delegation invitated by the Workers' Party of Korea, Foreign Ministry spokesman Kong Quan told yesterday's regular media briefing.

A Beijing-based source said Wang will visit Pyongyang this weekend but gave no further details.

The DPRK announced last Thursday it possessed nuclear weapons and was pulling out of the six-party talks on the standoff, which also include China, the United States, the Republic of Korea, Russia and Japan.

"We are still analyzing its February 10 statement, and China has maintained close contact with all the other related parties including Pyongyang since then," said Kong.

Christopher Hill, the newly-appointed top US representative to the talks, and ROK Deputy Foreign Minister Song Min-soon held talks yesterday with Chinese Foreign Minister Li Zhaoxing in Beijing.

Li told Hill that under the current complicated situation, all relevant parties should maintain their patience, resolve and confidence, and should make "constructive efforts" to prevent the situation from further worsening. He said the talks should be resumed "as soon as possible."

The three sides again expressed their hope to strive for an early resumption of six-party talks. Li called on all parties to step up diplomatic efforts, to prevent the situation on the peninsula from becoming further complicated.

Li also discussed the issue in separate telephone calls with his Japanese, ROK, US and Russian counterparts several days ago.

"It is a big challenge to Beijing to take action to bring Pyongyang back to the negotiations," said Fan Jishe, a senior researcher at the Chinese Academy of Social Sciences.

The expert said it is unfair for other parties such as the United States to complain that China did not bring its "great potential influence" over Pyongyang in the process into full play.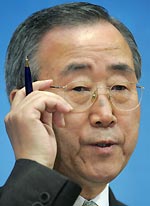 South Korean Foreign Minister Ban Ki-moon gestures during a news conference in Seoul February 16, 2005. Ban told reporters on Wednesday big-scale schemes could not go ahead until the nuclear crisis was solved. [Reuters]

Beijing has hosted three rounds of talks so far and Pyongyang has refused to return to the negotiating table for a fourth round of talks, blaming the "hostile policy" of the United States.

China, which provides significant support to the DPRK's economic development, does not wish to see turbulence on the Korean Peninsula, as this is not in China's interests and also threatens regional stability, said Fan.

"Therefore, economic sanctions are not an ideal way to solve the issue," said the expert.

But one thing China will constantly stress during the process is that the Chinese side adheres to the principle of a nuclear weapons-free Korean Peninsula and its position in this regard is unshakable, Fan said.

Fan said Beijing is expected to combine friendly and sincere but firm diplomacy with clear and strong word in private.




Today's Top News
Top China News

Official plans DPRK visit on nuclear impasse




China plans nuclear talks with North Korea




CIA issues warning on China's military efforts




China's endangered panda expands habitat




Kyoto treaty takes effect to tackle climate




Report: Iran, Syria to form 'united front'