Project aims to revitalize Silk Road trade ties
By Jiang Zhuqing (China Daily)
Updated: 2005-02-18 00:48
China and the four Central Asian countries located on the Silk Road will strengthen their co-operation to revitalize the famous ancient trading route.
The Silk Road Regional Programme (SRRP), a joint initiative between United Nations Development Programme (UNDP) and the governments of China, Kazakhstan, Kyrgyzstan, Tajikistan and Uzbekistan, will be carried out in three areas trade, investment and tourism with the aim to revive traditional economic co-operation, said Khalid Malik, UN resident co-ordinator and UNDP resident representative in China, at a press conference yesterday.
"Regional co-operation is a key to help meet the Millennium Development Goals of reducing poverty and promoting growth and equality," said Malik while introducing the results and achievements during the launch meeting of the SRRP, which ended yesterday in Beijing. The project will encourage public-private partnerships in selected fields such as infrastructure, tourism and hotel development through a Silk Road Investment Forum, an annual or biannual event to attract international and Chinese investment.
Through the project, the UNDP and World Trade Organization will identify eight to 10 cities along the route to award the title of "UN Silk Road City" to encourage their commitment and long-term planning to the protection of cultural assets.
With a starting fund of US$1 million, the two-year project represents a strategic, follow-up phase of an earlier UNDP programme "Silk Road Area Development - Phase I," he noted.
Serving as a link, the SRRP will help the participating countries strengthen connection and co-operation with each other, Malik said.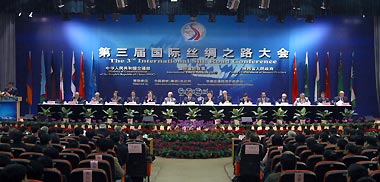 The 3rd International Silk Road Conference kicks off in Xi'an on October 24, 2004. [newsphoto]


For example, "in the vast area of Central Asia, including western China, rich tourism resources remain to be tapped," he said, adding that through the project, innovative projects such as the Silk Road multiple-entry visa will be introduced.

Initial dialogue with the governments of the participating countries and the Shanghai Co-operation Organization (SCO) was also held during the meeting, he noted.

By trade and investment ties, the programme will help the Central Asian countries "draw economic growth lessons" from China which has developed at a very fast pace, said Fikret Akcura, UN resident co-ordinator and UNDP resident representative in Uzbekistan. "We can achieve new miracles by opening tourism and realizing the free movement of visitors, goods and services," said Akcura.

China, with its dynamic economy, is keen to revive the historic Silk Road as well to improve trade and transport links between China and the Central Asian countries which boast vast natural resources, said Zhao Yongli, division director of the China International Centre for Economic and Technological Exchanges under the Ministry of Commerce.

The trading turnover between China and Central Asian countries increased to US$4 billion in 2003, eight times higher than the 1992 figure, Zhao said.

Aside from the four participating countries, others have expressed interest to join the project as well, UNDP said.




Today's Top News
Top China News

Official plans DPRK visit on nuclear impasse




China plans nuclear talks with North Korea




CIA issues warning on China's military efforts




China's endangered panda expands habitat




Kyoto treaty takes effect to tackle climate




Report: Iran, Syria to form 'united front'