Iraq's Shi'ites win slim majority in assembly
(Agencies)
Updated: 2005-02-17 21:25
Iraq's electoral commission Thursday certified the results of the Jan. 30 elections and allocated 140 National Assembly seats to the United Iraqi Alliance, giving the Shiite-dominated party a majority in the new parliament.
The certification sets the stage for the first meeting of the National Assembly, which will have 10 months to draft a new constitution.
The assembly's first order of business will be to elect a president and two vice presidents to largely ceremonial positions. The assembly then will approve a prime minister nominated by the president and vice presidents.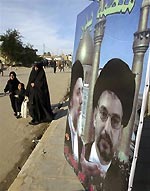 A woman and children walk past a sign in support of Shiite cleric and politician Abdel-Aziz al-Hakim in Karbala, Iraq Thursday, Feb. 17, 2005. [AP]

The Shiite-led alliance's majority in the assembly had been expected, based on projections from the final results announced Sunday. The clergy-backed ticket won 48 percent of the vote and the Kurdish alliance received 26 percent of the vote, giving it 75 seats. Prime Minister Ayad Allawi, a secular Shiite who supported strong ties to Washington, won 14 percent.

A redistribution of the votes from the 99 parties that did not win enough support to get parliament seats gave the Shiite alliance control of more than half of the assembly's 275 seats, even though they received slightly less than half the vote.

It appeared only 12 party groupings would take seats.

Even though the United Iraqi Alliance has a majority of seats in the assembly, it still needs partners. A two-thirds majority is needed to select a president and two vice presidents, who will in turn choose a prime minister to run the day-to-day government.

The current appointed government will now set a date for installing the new elected government. There has been no indication of how long that might take, and the timing will depend on back-room dealmaking among the parties.

The certified results were announced after a deadline to file complaints expired Wednesday. Farid Ayar, a spokesman for the election commission, told Al-Arabiya television that 47 complaints were filed and most of them were resolved.

Abdul Hussein Hindawi, the head of election commission, said, "The commission received a number of complaints, and investigated it carefully and sorted it out."

Carlos Valenzuela, the chief U.N. election expert in Iraq, said the election results were "the definition of difficult."

"The elections were not perfect. They were never meant to be, but they were extremely good elections," he said.

Top Shiite politicians have agreed to choose their nominee for prime minister through a secret ballot, expected to take place Friday, to decide a two-man race between Ibrahim al-Jaafari and Ahmad Chalabi.

The contrast between the two candidates is stark and reveals a division within the clergy-endorsed alliance, made up of 10 major political parties and various allied smaller groups.

Al-Jaafari, 58, is the leader of the religious Dawa Party, one of Iraq's oldest parties, known for its popularity and close ties to Iran. Although al-Jaafari is a moderate, his party's platform is conservative.

Chalabi, 58, who left Iraq as a teen, leads the Iraqi National Congress and had close ties to the Pentagon before falling out of favor last year after claims he passed intelligence information to Iran.

A secular Shiite, Chalabi's Iraqi National Congress is an umbrella for groups that included Iraqi exiles, Kurds and Shiites. Much of the intelligence his group supplied on Iraq's alleged weapons of mass destruction programs failed to pan out.

Al-Jaafari was considered the leading contender Wednesday, though Chalabi's aides said their man had enough votes to win.

"The talks are still going on among the members of the alliance to choose the suitable person for the post of prime minister," al-Jaafari said Thursday. "I am happy that everyone who thinks himself eligible is free and can be nominated."

A close aide to Grand Ayatollah Ali al-Sistani, the spiritual leader of Iraq's Shiite Muslims, said the alliance's leaders will visit the cleric's office in Najaf to get his blessing for their choice. In the event they cannot agree, al-Sistani will make the final decision, the aide said.

Kurdish parties apparently have agreed to support the alliance's candidate for prime minister in return for the largely ceremonial presidency. But officials said they would not accept a theocracy.

"We will reject and we won't allow the establishment of a theocratic state; we want separation between religion and state," said Noshirwan Mustafa, an aide to Jalal Talabani, the Sunni Kurd and leader of the Patriotic Union of Kurdistan who is expected to become president.

Sunni Arabs, favored under Saddam Hussein's rule, largely stayed away from the polls. But the Shiites must move cautiously if they want to form an inclusive government.

The government that does take power will face the tough challenge of quelling a violent insurgency, largely being waged by Sunni extremists.

Insurgents detonated a bomb Thursday as a convoy of U.S. troops and Iraqi National Guardsmen traveled on a road in Hawija, wounding seven Iraqi troops, Iraqi Maj. Gen. Anwar Mohammad Amin. No Americans were hurt, he said.

In western Baghdad, Iraqi and U.S. forces detained seven suspected insurgents during a joint raid, Interior Ministry Capt. Sabah Yasin said.

Also, gunmen opened fire on patrolling Iraqi National Guardsmen in Hillah, 60 miles south of the capital, sparking a shootout that killed two suspected insurgents and wounded three Guardsmen, Maj. Fatik Iyd said.




Today's Top News
Top World News

Official plans DPRK visit on nuclear impasse




Project aims to revitalize Silk Road trade ties




China ponders electricity rate hike




Liaoning mine blast compensation under way




Iraq's Shi'ites win slim majority in assembly




Negroponte selected as US intelligence chief