Report: Iran, Syria to form 'united front'
(Agencies)
Updated: 2005-02-17 09:09
Iran and Syria, who both are facing pressure from the United States, said Wednesday they will form a "united front" to confront possible threats against them, state-run television reported.
"In view of the special conditions faced by Syria, Iran will transfer its experience, especially concerning sanctions, to Syria," Mohammad Reza Aref, Iran's first vice president, was quoted as saying after meeting Syrian Prime Minister Mohammad Naji Otari.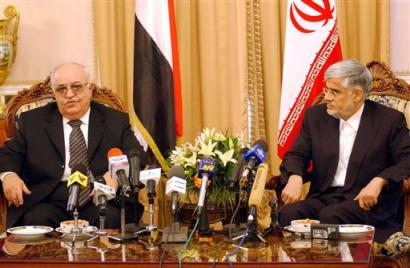 Syrian Prime Minister Mohammed Naji al-Otari, left, meets with Iran's Vice-President, Mohammad Reza Aref, in Tehran, Iran, Wednesday, Feb. 16, 2005. [AP]
"At this sensitive point, the two countries require a united front due to numerous challenges."
Otari concurred, saying, "The challenges we face in Syria and Iran require us to be in one front to confront all the challenges imposed (on us) by others."
The report did not specifically mention the challenges, but both countries are under U.S. economic sanctions and the targets of intense American pressure.
Iran, which President Bush had labeled an "axis of evil" with North Korea and prewar Iraq, was named an "outpost of tyranny" last month by Secretary of State Condoleezza Rice.
The United States has accused Iran of seeking to produce nuclear weapons, while relations with Syria have deteriorated, especially since Monday's assassination of former Lebanese Prime Minister Rafik Hariri.
Many Lebanese blamed Monday's car bombing in Beirut on Syria, but the Syrian government has denied responsibility. Washington is recalling its ambassador from Syria in apparent response to Hariri's killing.
Washington also accuses Syria of aiding anti-Israeli militants and supporting insurgents in Iraq.
Tehran and Damascus have been strategic allies for years. Syria was the only Arab country that continued its warm relations with Iran during the 1980-1988 Iran-Iraq war.
Today's Top News
Top World News

Expert: China overtakes US as world's top consumer




China plans nuclear talks with North Korea




CIA issues warning on China's military efforts




China's endangered panda expands habitat




Kyoto treaty takes effect to tackle climate




Report: Iran, Syria to form 'united front'