Expert: China overtakes US as top consumer
(Agencies)
Updated: 2005-02-17 09:01
China has replaced the United States as the world's top consumer, eclipsing the world's richest economy in consumption of four of the five basic food, energy and industrial commodities, a global environmental think tank said.
Growing at a rapid rate, China has taken the lion's share in the consumption of grain, meat, coal and steel, and loses out to the United States only in oil among the five basic commodities, according to the Washington-based Earth Policy Institute.
In another key area, fertilizer, China's use is double that of the United States while among television sets, refrigerators and cellular phones the world's most populous nation is way ahead.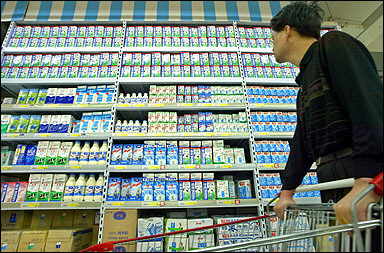 A shopper walks past the dairy products at a supermarket in Shanghai.[AFP]
Among leading consumer products, China trails the United States only in automobiles, the institute said in a report.
It will only be a matter of time before China, the world's most populous nation, overtakes the United States in the use of personal computers.
The number of PCs in China are doubling every 28 months, the report said.
"China's eclipse of the United States as a consumer nation should be seen as another milestone along the path of its evolution as a world economic leader," Lester Brown, the institute's president, told reporters.
"China is no longer just a developing country," he said. "It is an emerging economic superpower, one that is writing economic history," said Brown, a respected environmental analyst.
Among the big three grains, China leads in the consumption of both wheat and rice, and trails the United States only in corn use.
China's 2004 intake of 64 million tonnes of meat has climbed far above the 38 million tonnes consumed in the United States, where the hamburger-eating habit is a defining element of the country's lifestyle.
China's steel usage -- a barometer of industrial development -- is now more than twice that of the United States: 258 million tonnes to 104 million tonnes in 2003.
Although US oil consumption is triple that of China's -- 20.4 million barrels per day to 6.5 million barrels in 2004, use in China has more than doubled, Brown said.
But Brown hastened to add that there was a downside to China's insatiable appetite for raw materials to fuel its unstoppable economy, saying it was driving up not only commodity prices but ocean shipping rates as well.
The Chinese consuming prowess also would deal yet another blow to the United States, which suffers a massive trade deficit with the Asian giant and is heavily dependent on Chinese capital to underwrite its fast-growing debt.
"If China ever decides to divert this capital surplus elsewhere, either to internal investment or to the development of oil, gas, and mineral resources elsewhere in the world, the US economy will be in trouble," Brown said
He warned that global dependence on the Chinese economy, with 1.3 billion people, for absorption of both raw materials and finished products could backfire if economic growth in China plunged.
"As Chinese incomes rise at a world record pace, use of foodstuffs, energy, raw materials, and sales of consumer goods are continuing to climb," he noted.
China's per capita annual income of 5,300 dollars last year is one seventh the 38,000 dollars in the United States.
Brown, who this month launched his groundbreaking book "Outgrowing the Earth: The Food Security Challenge in an Age of Falling Water Tables and Rising Temperatures," said one of the bigger concerns was that China's rapid growth took a toll on the environment.
For example, he said, China's grain production had stagnated, including due to expansion of deserts and the loss of irrigation water. Last year, China had reversed the trend of constant grain declines.

Brown said in his book that China was "putting enormous pressure on its own natural resource base.
"In the deteriorating relationship between the global economy and the earth's ecosystem, China is unfortunately on the cutting edge."
Today's Top News
Top China News

Middle class society? It's still a long way off in China




Official plans DPRK visit on nuclear impasse




US official says China's future crucial




Project aims to revitalize Silk Road trade ties




China ponders electricity rate hike




Liaoning mine blast compensation under way