Liaoning coal mine death toll rises to 211
,China Daily/Xinhua
Updated: 2005-02-17 07:04
Rescuers have found another corpse in Sunjiawan coal mine in Fuxin City, northeast China's Liaoning Province, where a gas explosion occurred on Monday, bringing the death toll to 211.
Four miners were still missing by 16:10 Thursday, a Xinhua report said.

Besides, another coal mine explosion in Fuyuan County in Southwest China's Yunnan Province killed at least five on Tuesday, leaving 17 miners missing, Xinhua reported yesterday.
In Fuxin of Liaoning Province, the work of identifying bodies began yesterday after the corpses of the victims were brought out of Sunjiawan coal mine in Fuxin.
By press time, about 110 victims had been identified while all the bodies of the victims have been taken out of the pit, reports said.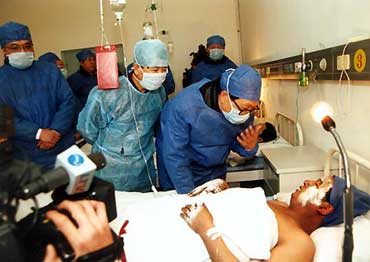 State Councillor Hua Jianmin, who is leading a State team at Fuxin, Liaoning Province, visits surviving miners of the explosion in hospital on February 15, 2005. [newsphoto]
A survivor who was saved on Tuesday evening was still in coma because he had been suffocated too long under the pit, said doctor Zhang Dayi, head of the hospital of the Fuxin Coal Industry Group.
Meanwhile, the other 28 injured miners are out of danger, Xinhua said.
After the accident, rescue headquarters and a special panel in charge of treatment have been set up in Fuxin.
An official from the State Administration of Work Safety (SAWS), who reached the rescue site on Tuesday morning and refused to be identified, told China Daily yesterday that the investigations of the accident will start soon and the local government still focused its efforts on looking for missing miners.
The disaster occurred at about 3 pm on Monday in Sunjiawan coal mine. Three hundred and thirty out of the 574 miners on duty escaped, but another 244 miners were trapped beneath the shaft, reports said.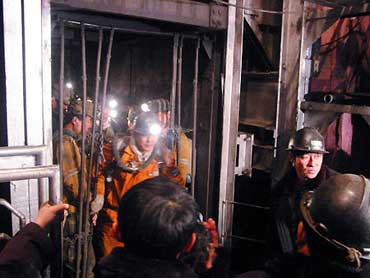 Rescuers walk out of elevator after a round of searching on February 15, 2005. [newsphoto]
All coal mines of the group have been ordered to suspend production for safety overhauls, Xinhua reported.
As for the explosion in Yunnan Province, reports said it occurred at an illegal coal mine in Songlin Village in Zhuyuan Township at about 4:10 pm on Tuesday and 15 miners were injured, said Xu Jian'an, deputy director of the Yunnan Provincial Administration on Coal Mine Safety.