Kyoto global warming pact takes effect
(Agencies)
Updated: 2005-02-16 23:19
KYOTO, Japan - The Kyoto global warming pact went into force Wednesday, seven years after it was negotiated, imposing limits on emissions of carbon dioxide and other gases scientists blame for rising world temperatures, melting glaciers and rising oceans.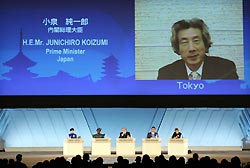 Japanese Prime Minister Junichiro speaks on an Internet live broadcasting programme from his official residence in Tokyo during the commemorative ceremony to mark the entry into force of the Kyoto Protocol in Kyoto, western Japan February 16, 2005.[Reuters]

The landmark agreement, negotiated in Japan's ancient capital of Kyoto in 1997 and ratified by 140 nations, targets carbon dioxide and five other gases that can trap heat in the atmosphere, and are believed to be behind rising global temperatures that many scientists say are disrupting weather patterns.

The United States, the world's largest emitter of such gases, has refused to ratify the agreement, saying it would harm the economy.

"We have been calling on the United States to join. But the country that is the world's biggest emitter has not joined yet, and that is regrettable," Japan's top government spokesman, Chief Cabinet Secretary Hiroyuki Hosoda, told reporters.

Environmental officials, gathered in the convention hall where the accord was adopted, hailed the protocol as a historic first step in the battle against global warming and urged the world to further strengthen safeguards against greenhouse gases.

"Today is a day of celebration and also a day to renew our resolve ... to combat global warming," said Hiroshi Ohki, former Japanese environment minister and president of the conference that negotiated the protocol.

Australia, the only other developed nation besides the United States not to join, defended that decision, with Environment Minister Ian Campbell saying the country was nonetheless on track to cut emissions by 30 percent.

"Until such time as the major polluters of the world including the United States and China are made part of the Kyoto regime, it is next to useless and indeed harmful for a country such as Australia to sign up," Australian Prime Minister John Howard said in Canberra.

The Kyoto agreement was delayed by the requirement that countries accounting for 55 percent of the world's emissions must ratify it. That goal was reached last year — nearly seven years after the pact was negotiated — with Russia's approval.

In Japan, a tireless supporter of the pact, the enactment was being met with a mixture of pride and worry that the world's second-largest economy is unprepared to meet its emissions reduction targets.

Japan planned to celebrate the enactment Wednesday at the convention hall where the accord was negotiated in December 1997, with speeches and a panel discussion among environmental experts and activists.

U.N. Secretary-General Kofi Annan planned to send a message. The Kyoto pact is an adjunct to the 1992 U.N. treaty on climate change.

The Kyoto targets vary by region: The European Union is committed to cutting emissions to 8 percent below 1990 levels by 2012; the United States agreed to a 7 percent reduction before President Bush denounced the pact in 2001.

That proposal was opposed by the U.S. Senate so adamantly that the protocol was never submitted for ratification by then-President Bill Clinton. Bush then pulled the United States out of the pact in March 2001, less than three months after taking office, saying the Kyoto pact would have cost far too much and exacerbated an already bothersome energy problem for the world's largest consumer of energy from fossil fuels such as coal and petroleum.

White House spokesman Scott McClellan said Tuesday that "we are still learning" about the science of climate change. In the meantime, McClellan said, "We have made an unprecedented commitment to reduce the growth of greenhouse gas emissions in a way that continues to grow our economy."

The Bush administration's stance has since drawn fire from environmental experts, who say it is ignoring scientific consensus about global warming, and that government reports have been censoring views not in line with its politics.

Japan is struggling to find ways to meet its obligations. A report this month by the Ministry of Economy, Trade and Industry showed that 11 of 30 top Japanese industries — steel and power among them — risked failing to reach targets unless they take drastic steps.

Officials made solemn pledges Tuesday to fulfill Japan's treaty requirement to cut emissions of carbon dioxide and other gases by 6 percent below 1990 levels by 2012.

The Cabinet will draw up concrete plans by May, Environment Minister Yuriko Koike said.

Some officials are pondering a "carbon tax" to punish polluters — a move opposed by business — while others favor expansion of nuclear power and promotion of energy-saving technologies.

Japan also has been especially active in carbon trading — a system under which governments have allocated carbon dioxide quotas to industrial facilities. Those which emit less gas can sell the "credit" to other companies who emit too much.

Makoto Katagiri, whose Natsource Japan is acting as a credit broker between Japanese and foreign companies, estimated in a study for the World Bank (news - web sites) that Japan bought 41 percent of the carbon credits on the international market last year.

"From this figure, you can imagine how serious the Japanese companies (are)," Katagiri said.




Today's Top News
Top World News

Liaoning mine blast toll rises to 210, rescue underway




Chinese protest against move on islands




CPC punishes corrupt officials in 2004




France pushes to lift China arms ban




Snow challenges returning crowds




S.Korea proposes military talks with North