Kidnapped Italian reporter shown on tape
(Agencies)
Updated: 2005-02-16 21:04
BAGHDAD, Iraq - Sobbing and clasping her hands, a kidnapped Italian journalist appeared on a video Wednesday, pleading for her life and calling on U.S.-led troops to pull out of Iraq.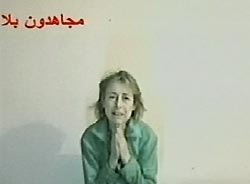 A frame grab taken from a video tape released by insurgents February 16, 2005, shows Giuliana Sgrena, an Italian journalist kidnapped in Iraq, begging for her life and appealing for foreign troops to withdraw from Iraq. [Reuters]

"You must end the occupation, it's the only way we can get out of this situation," Giuliana Sgrena said in the videotape, obtained by Associated Press Television News. There was no indication from the tape when it was made.

Rocking back and forth, Sgrena appeared alone in the brief footage, only her shadow visible on a white background behind her. In the upper left corner of the image, the words "Mujahedeen Without Borders" appeared in digital red Arabic script ¡ª a previously unheard-of group.

"I ask the Italian government, the Italian people struggling against the occupation, I ask my husband, 'Please, help me,'" Sgrena said in French. "You must do all you can to end the occupation. I'm counting on you, you can help me."

The 56-year-old reporter for the communist daily Il Manifesto was kidnapped Feb. 4 by unidentified gunmen outside a mosque in Baghdad. Conflicting claims about her fate have appeared on Islamic militant Web sites.

In the APTN footage, Sgrena spoke in both Italian and French and wore a green jacket and shirt. She appeared in good health, but looked tired and was clearly anxious, with her hands clasped together.

At one point she addressed her companion, Pierre Scolari, breaking into tears.

"Show all the pictures I have taken of the Iraqis, of the children hit by the cluster bombs, of the women. I beg you. Help me, help me to demand the withdrawal of the troops, help me spare my life."

At another point, she waved the camera to stop, apparently overcome by emotion.

"These people don't want foreigners here, nobody should come to Iraq at this time," she said. "Not even journalists. Nobody."

Gabriele Polo, the editor in chief at Sgrena's newspaper, said he was relieved to see her. Last week, the newspaper said it had indications she was alive and that intelligence officials had established indirect contact with the kidnappers.

Italy's foreign ministry said it was checking on the video through the Italian Embassy in Baghdad and declined further comment. Italy has said it will not buy her freedom.

Italian government officials and Sgrena's colleagues have publicized the journalist's pacifist convictions in hopes it might help win her release.

Il Manifesto strongly opposed the U.S.-led invasion of Iraq. It has fiercely criticized Italian Prime Minister Berlusconi's decision to deploy 3,000 troops in the U.S.-led multinational force in Iraq.

More than 190 foreigners have been abducted in Iraq in the past year. At least 13 remain in the hands of their captors, more than 30 were killed and the rest were freed or escaped.

Sgrena is at least the ninth Italian citizen seized in Iraq in recent months. Freelance Italian journalist Enzo Baldoni was reported missing in mid-August and reportedly killed Aug. 26.

On the tape, Sgrena said she had arrived in Iraq at the end of January "to witness the situation of these people who are dying everyday.

"Thousands of people are in prison, children, the elderly, women are raped, people die because they have nothing to eat, no electricity, no water."




Today's Top News
Top World News

Gas emissions treaty takes effect




Foreign trade jumps 33% in January




Work restarts after festival celebration




Coal mine death toll rises to 210




Gov't to strengthen anti-corruption drive




Fires kill 93 during Festival holidays