India-Pakistan talks start, seen bearing first fruit
(Agencies)
Updated: 2005-02-16 16:34
Pakistani leaders began talks with Indian Foreign Minister Natwar Singh on Wednesday with expectations high that a peace process started a year ago will bear its first results.
While no one is predicting any sudden solution to the longstanding dispute between the nuclear rivals over Kashmir, Singh is expected to agree to the start of a proposed bus service between the Indian and Pakistan sides of the divided Himalayan region.
On arrival in Islamabad on Tuesday, Singh said India was considering joining a huge project for a gas pipeline running from Iran via Pakistan to India, as well as one from the Central Asian state of Turkmenistan through Afghanistan and Pakistan.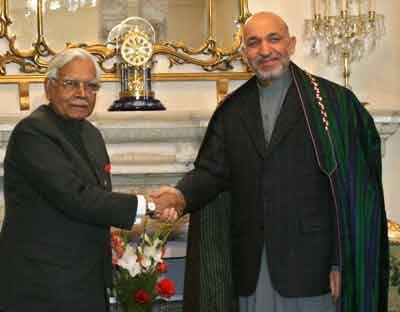 Afghan President Hamid Karzai (R) meets Indian Foreign Minister Natwar Singh in Kabul February 15, 2005. Indian Foreign Minister Natwar Singh arrived in Afghanistan on Tuesday for a brief visit before he was to head to Islamabad for a fresh round of peace talks with nuclear-armed rival and neighbour Pakistan. [Reuters]

Singh, in the first official bilateral visit by an Indian foreign minister for 16 years, called on President Pervez Musharraf and was due to meet Prime Minister Shaukat Aziz before holding talks with his counterpart, Foreign Minister Khursheed Mehmood Kasuri.

An accord on the bus service, and agreement in principle on a project dubbed "the pipeline for peace" would go a long way to allay Pakistani impatience with India's more gradual approach.

India has put a host of confidence building measures (CBMs) on the table, but its past hesitancy over the bus and pipeline issues dismayed Pakistani leaders already disappointed that talks had barely scratched the surface on the core issue of Kashmir. "Even if they do not sign agreement, there are strong indications of progress on these two issues. These are very important CBMs which will improve the overall climate and further reduce tensions," said Talat Masood, a retired general and political commentator.

Pakistan is nurturing hopes that Singh may come up with some way out of an impasse over Pakistan's objections to a dam being built by India that Islamabad says will reduce the flow of water into its territory.

Pakistan has asked the World Bank to intervene over a row that has been seen as a setback to the thaw in relations.

News conferences were scheduled by both sides for later in the day, and Singh is due to return home on Thursday morning.

The start of a bus service between Srinagar and Muzaffarabad, the capital of Pakistan's Kashmir will be rich in symbolism, allowing families sundered by the partition of India in 1947 a chance to be reunited.

India's Kashmir, the country's only Muslim-majority state, has been ravaged by a 15-year insurgency that New Delhi claims has been fuelled and supported by Pakistan.

Islamabad says the insurgency is an indigenous freedom struggle, but New Delhi says cross-border militancy must be stopped before engaging Pakistan fully over Kashmir's future.

Musharraf suggested demilitarising Kashmir late last year, but Indian Prime Minister Manmohan Singh's response was that New Delhi would not consider any change in present borders.

The deal on the bus service is expected to entail Kashmiris using permits instead of passports to cross the military ceasefire line dividing their land because Pakistan did not want to give the frontier the status of a recognised border.

The proposed pipeline network would earn Pakistan considerable transit fees while providing India with much-needed energy for its fast-growing economy.

Work could start on the pipeline from Iran in 2009, but the project is fraught with security concerns beyond just the durability of goodwill between India and Pakistan.

Iran is at the centre of an international storm over its alleged covert plans to build nuclear weapons.

And in the southwestern Pakistani province of Baluchistan, separatist tribal militants regularly attack gas installations and last month disrupted supplies for several days from the country's largest gas field.




Today's Top News
Top World News

Liaoning mine blast toll rises to 210, rescue underway




Chinese protest against move on islands




CPC punishes corrupt officials in 2004




France pushes to lift China arms ban




Snow challenges returning crowds




S.Korea proposes military talks with North