France pushes to lift China arms ban
(Agencies)
Updated: 2005-02-16 13:57
LONDON - The end of an EU arms embargo on China could slow a push by Beijing to develop its own advanced weapons, which would otherwise happen in five years with or without outside help, France's defence minister said in an interview published in Britain's Financial Times.
While insisting that Paris had strict export controls to stop most lethal technologies passing into Chinese hands, Michele Alliot-Marie said: "The lifting of the embargo could be a better protection for us than maintaining it."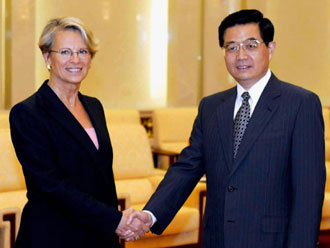 Chinese President Hu Jintao (right) shakes hands with visiting French Defense Minister Michele Alliot-Marie in Beijing in this June 2003 file photo. Alliot-Marie said in an interview with FT that France will push to lift the 15-year-old EU arms ban on China. [file]

An EU plan to ditch the 15-year embargo has triggered concerns in the United States, which is worried that China would gain access to cutting-edge European technology to upset the balance in a region.

But Alliot-Marie argued that the country would soon be able to develop such technology itself, regardless.

"China is rapidly developing its industry, and today our experts say that in five years China could make exactly the same arms that we have today," France's first female defence minister told the British newspaper.

"And they will do it if they cannot import," she said.

"So maybe if we can sell them the arms, they will not make them. And in five years' time they will not have the technology to make them."

Her comments come as Washington and Paris try to mend a transatlantic rift caused by the US-led war in Iraq, which France opposed.

US President George Bush is due to visit Europe next week and the arms ban issue is expected to feature high up on his agenda, the Financial Times said.

Last week, US Secretary of State Condoleezza Rice, on a brief trip to Brussels, stressed her concern about the EU embargo plans but said both sides were united in wanting to pull Beijing into the international fold.

Alliot-Marie said that lifting the embargo would help to reintegrate China into the international community -- a prospect that has also alarmed Washington due to concerns about human rights issues.

"The embargo was made about 15 years ago, and the evolution of China and of its international relations have been very significant since then," the defence minister said.

"We cannot have relationships with China in all these fields -- economic, medical, research and so on -- and conserve the embargo as it is today."

The EU appears set to lift the ban in the coming months, possibly before the end of June. But the details are still being worked out, notably over a self-imposed code of conduct to regulate EU arms sales to China.




Today's Top News
Top China News

Liaoning mine blast toll rises to 209, rescue underway




Chinese protest against move on islands




CPC punishes corrupt officials in 2004




France pushes to lift China arms ban




Snow challenges returning crowds




S.Korea proposes military talks with North