U.S. ambassador in Syria summoned home for talks
(Agencies)
Updated: 2005-02-16 13:33
The United States on Tuesday recalled its ambassador to Syria for urgent consultations to show its deep displeasure with Damascus following the killing of former Lebanese Prime Minister Rafik al-Hariri.
U.S. officials said they were considering imposing new sanctions on Syria because of its refusal to withdraw its 14,000 troops from Lebanon and the U.S. belief that Syria lets Palestinian militants and Iraqi insurgents operate on its soil.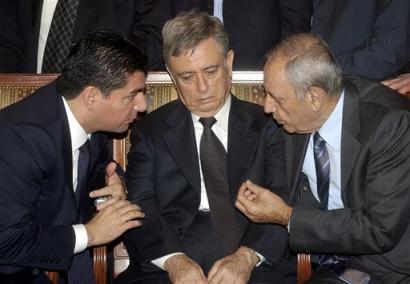 Syrian Vice President Abdul-Halim Khaddam, center, listens to Bahaa Hariri, son of the slain former prime minister, left, and Lebanese parliament speaker Nabih Berri, at a memorial service for former Lebanese Prime Minister Rafik Hariri in Beirut, Lebanon Tuesday, Feb. 15, 2005. Syria is the main power broker in Lebanon and Hariri, who served in office 10 of the last 14 years, began moving in recent months closer to the opposition, which has waged an unprecedented political campaign to bring Damascus to withdraw its army from Lebanon. The United States called the attack 'a terrible reminder' that Lebanon still must shake free of occupation by Syria.[AP]

"The Syrian government is unfortunately on a path right now where relations are not improving, but are worsening," US Secretary of State Condoleezza Rice told reporters after a meeting with Egyptian Foreign Minister Ahmed Aboul Gheit.

Citing the many U.S. grievances against Syria, she added, "It would be our hope that the Syrian government would take ... this as a very strong signal that the United States does not like the direction of U.S.-Syrian relations, and we will continue to consider what other options are at our disposal."

U.S. Ambassador Margaret Scobey will return to Washington shortly to discuss how to get Syrian cooperation on Lebanon, Iraq and Middle East peace, as well as the possibility of new punitive sanctions, the White House and State Department said.

While acknowledging they do not know who was to blame for Monday's car-bomb assassination, U.S. officials argued Syria's military presence and its political power-broking role were generally responsible for Lebanon's instability.

"We're not laying blame," Rice said. "But there is no doubt that the conditions created by Syria's presence there have created a destabilized situation in Lebanon."

'SYRIA IS NOT INVOLVED'

Syria's ambassador to the United States, Imad Moustapha, played down the impact of Scobey's recall.

"Syria has nothing to benefit from what has happened. Actually, it's the other way around," he told CNN of Hariri's death. He cited "a sinister plot ... trying to point fingers at Syria," and added, "Syria is not involved."

Asked if the United States was getting closer to imposing additional sanctions on Syria, State Department spokesman Richard Boucher told reporters, "The longer we go on without seeing some significant progress ... the more likely it becomes that we will look to the various tools that we have, including the Syria Accountability Act, to impose further measures."

US President Bush imposed some economic sanctions against Syria under the act in May, and other steps he could take include restrictions to isolate Syria's banks and bar U.S. financial institutions from dealing with them.

The administration also was debating whether U.S. troops could cross the Syrian border from Iraq in "hot pursuit" of insurgents, sources familiar with the discussions said.

The decision to recall Scobey was "a very overt political message to Syria that the U.S. is frustrated with Syrian behavior at a very delicate juncture" in the Middle East, said David Makovsky, a Middle East expert at the Washington Institute for Near East Policy.

Syria, which has blamed "enemies of Lebanon" for Hariri's death, rejects accusations it supports terrorism.

Scobey met Syrian officials after Hariri's assassination to express "our deep concern as well as our profound outrage over this heinous act (of terrorism)," Boucher said.

The Bush administration is consulting the U.N. Security Council about punishing those responsible for the killing.

Last week, the State Department called in Syria's ambassador to press U.S. concerns, signaling a decision on sanctions may be near. The State Department has designated Damascus as a sponsor of terrorism since 1979, a status that subjects Syria to limited U.S. sanctions.




Today's Top News
Top World News

Liaoning mine blast toll rises to 209, rescue underway




Chinese protest against move on islands




CPC punishes corrupt officials in 2004




Snow challenges returning crowds




S.Korea proposes military talks with North




Likely Iraq PM promises moderation