Michael Jackson hospitalized with flu
(Agencies)
Updated: 2005-02-16 10:51
Michael Jackson was taken to an emergency room with flu-like symptoms Tuesday, delaying jury selection in the pop star's child-molestation case for a week.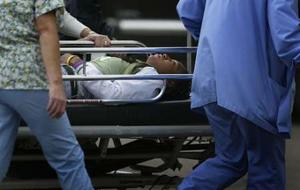 Michael Jackson supporter Susie Mumpfield is rushed into Marian Medical Center in Santa Maria February 15, 2005. Mumpfield was outside the hospital to support Jackson, who is hospitalized with the flu. Jury selection in Jackson's child molestation trial will be delayed until next week due to his illness. There was no further information on Mumpfield's condition. [Reuters]


The entertainer was being treated for a "flu-like illness with some vomiting," Dr. Chuck Merrill said during a brief news conference at Marian Medical Center about five hours after Jackson's illness was announced in court by the judge.

"He's in stable condition and we expect a full recovery," said Merrill, who would not answer questions.

Jackson's brother Randy told reporters the entertainer would spend the night in the hospital.

Earlier, as potential jurors filed into the courtroom — including a few who were scolded by bailiffs for being late — Jackson's seat remained empty. Nearly 20 minutes after the singer was scheduled to arrive, Judge Rodney S. Melville announced that Jackson had been taken to a hospital.

He said the 46-year-old singer would need three or four days to recover and noted that several members of the jury pool were out with the flu and that it appeared to be going around.

The judge said Jackson had been on his way to court but was taken to a hospital emergency room instead.

Outside the hospital, about two miles from the courthouse, a growing crowd of about 50 fans and reporters gathered. Police officers guarded all entrances, stopping anyone who appeared to be with the news media, while hospital officials put up white fabric to hide what was going on in the emergency room.

Jury selection had already been delayed for a week because of the death of a defense attorney's sister.

The two sides are selecting 12 jurors and eight alternates who will decide whether Jackson molested a teenage cancer patient at his Neverland Ranch and plied the youngster with alcohol. The trial could last about six months.

Jackson carried tissues and was wiping his nose when he arrived at court Monday — the first day of questioning of prospective jurors. Jackson's lawyers also announced they may try to call such stars as Elizabeth Taylor, Jay Leno, Quincy Jones and Kobe Bryant to the stand.

Defense attorney Thomas Mesereau Jr. told the judge that Jackson was feeling ill Monday and that the symptoms continued Tuesday morning en route to the courthouse. Leaving court, another Jackson attorney, Brian Oxman, said: "He's doing OK. He's been admitted to the hospital."

Before the court session ended Tuesday, the judge rejected a request from Mesereau to question jurors for more than 10 minutes, saying that was plenty of time.

The judge also said defense attorneys would not be allowed to privately question jurors who requested confidentiality about some issues. The judge said he would handle those questions himself.




| | |
| --- | --- |
| | |
| Delicacy at temple fair: Insects on skewers | |

| | |
| --- | --- |
| | |
| Julia Roberts releases photos of twins | |

| | |
| --- | --- |
| | |
| Chinese celebrate Valentine's Day | |
Today's Top News
Top Life News

Liaoning mine blast toll rises to 209, rescue underway




Chinese protest against move on islands




CPC punishes corrupt officials in 2004




Snow challenges returning crowds




South Korea proposes talks with North




Likely Iraq PM promises moderation