S.Korea proposes military talks with North
(Agencies)
Updated: 2005-02-16 10:47
South Korea has proposed high-level military talks with North Korea, focusing on ways to avoid accidental clashes now that the North has claimed to have nuclear weapons.
South Korea's defense ministry said the talks would be a way of engaging the North even as it refuses to return to six-nation talks on its nuclear program.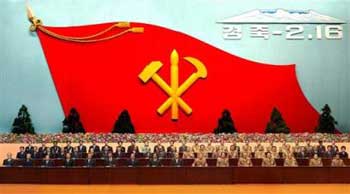 Leaders of North Korea hold a meeting to celebrate the birthday of North Korean leader's Kim Jong Il in Pyongyang Tuesday, Feb. 15, 2005. Kim turns 63 on Wednesday. [AP]

"North Korea has yet to respond to our proposal, but we are expecting the North side to make a sincere and positive response," the ministry said Tuesday.

In Pyongyang, ruling Workers' Party officials and military officers gathered Tuesday to celebrate the birthday of leader Kim Jong Il, according to the North's official news agency, KCNA. Kim turns 63 on Wednesday.

"If the U.S. recklessly opts for a war of aggression despite the repeated warning of the (North), our army and people will mobilize all potentials ... and deal merciless crushing blows at the aggressors and achieve a final victory in the confrontation with the U.S.," said Choe Thae Bok, a secretary of the Workers' Party Central Committee.

South Korean officials have said it's too early to declare the North a nuclear power, saying the alleged weapons haven't been tested or confirmed, and say Pyongyang should return to six-nation talks aimed at getting it to give up any nuclear weapons development in return for economic benefits.

Hong Seok-hyun, South Korea's newly appointed ambassador to Washington, said Tuesday that he believed North Korea's announcement "was meant to boost its negotiating position."

"It also was meant to urge the United States to show more sincerity," Hong was quoted as saying by the South Korean news agency Yonhap.

South Korean intelligence officials said Tuesday that even if North Korea has nuclear weapons, it lacks the technology to deliver them by missile.

In a briefing to National Assembly members, the intelligence officials also said there was little possibility that the North had exported its nuclear technology, the Yonhap news agency reported.

That counters recent claims by U.S. officials who said there is strong evidence that North has developed another Scud missile with a longer range and better accuracy than conventional Scud missiles. A U.S. reconnaissance satellite detected the missile, with an estimated range of up to 620 miles, one or two years ago, the daily Chosun Ilbo reported, citing anonymous South Korean officials.

North Korea shocked the region in 1998 by testing a three-stage Taepodong-1 missile that flew over Japan and landed in the Pacific. That missile is believed to have a 1,540-mile range, enough to reach all but the most far-flung of Japan's islands.

On Monday, South Korean Foreign Minister Ban Ki-moon said in Washington that North Korea should rejoin the disarmament talks "as a responsible member of the international community."

U.S. officials ruled out any upfront economic concessions to get North Korea back to the table, following a meeting between Ban and U.S. Secretary of State Condoleezza Rice.

"The North Koreans should not be rewarded for causing difficulties in the reconvening of the talks," State Department spokesman Richard Boucher said.

On Tuesday, dozens of South Korean tourists arrived at Dora Observation Post to peep into the North.

Many of the tourists expressed concerns over North Korea's statement last week, and appeared to be shocked by the closeness of North Korea as seen from the South Korean military vantagepoint.

"It's so close that I am thinking if they invade, we are all going to die," Ji In-jong, a 70-year-old tourist.




Today's Top News
Top World News

Liaoning mine blast toll rises to 209, rescue underway




Chinese protest against move on islands




CPC punishes corrupt officials in 2004




France pushes to lift China arms ban




Snow challenges returning crowds




S.Korea proposes military talks with North