Liaoning mine blast toll rises to 210, rescue underway
(Agenices/Chinadaily.com.cn)
Updated: 2005-02-16 10:38
A total of 210 mining workers have been confirmed killed by Wednesday after a gas explosion at a coal mine in northeast China in one of the worst mining disaster in China's recent history.
Five others are still missing while 29 were injured in the fatal blast Monday at the state-run Sujiawan colliery in Fuxin city, Liaoning Province.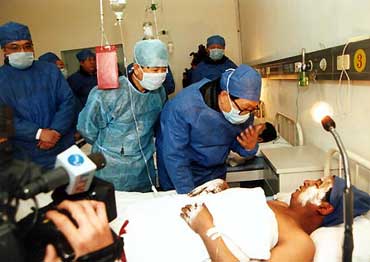 State Councillor Hua Jianmin, who is leading a State team at Fuxin, Liaoning Province, visits surviving miners of the explosion in hospital on February 15, 2005. [newsphoto]

Among those injured, some suffered cardon monoxide poisoning while others were burnt or had bones broken. One man was in a coma, Xinhua news agency reported. As well, 30 family members have been hospitalized "due to deep grief".

The State Administration of Work Safety attributed the blast, which occurred 242 meters underground, to a gas explosion.

President Hu Jintao and Premier Wen Jiabao issued orders demanding "all available measures" be taken to reach those trapped.

More than 200 rescuers are now working around the clock to search for the remaining six miners unaccounted for.

Provincial governor Zhang Wenyue and other senior local officials interrupted their Lunar New Year holidays to supervise rescue efforts which were continuing in heavy snow.

Electricity and the ventilation system, blown out by the blast, should be reconnected later Tuesday, Xinhua said.

Some 574 miners work at the colliery but fewer than half of them were underground at the time.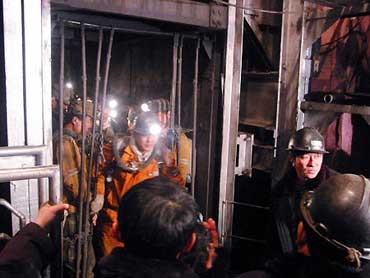 Rescuers walk out of elevator after a round of searching on February 15, 2005. [newsphoto]

Mining accidents and fatalities are frequent in China, amid a booming demand for energy to drive China's rapidly developing economy.

China relies on coal for 70 percent of its energy needs and an ongoing power shortage has resulted in mines going into overdrive.

This never-ending demand meant miners at Sujiawan were working when millions of others around the country were on a week-long holidays for the Lunar Spring Festival.

"I really can't believe it, I thought the mine had stopped production," said Zhao Yunfu, a doctor in Fuxin.

The latest disaster comes barely three months after 166 people were killed in a coal mine blast in northern Shaanxi province. Another gas explosion last October killed 148 miners in the central province of Henan.

China's coal industry, the most dangerous in the world, saw 6,027 workers die in accidents in 2004, official figures show. Although this was a 6 percent decrease from the previous year, critics and miners argue that lives continue to be sacrificed in the quest for energy.

Most of China's pits still rely on manual labour to hack away at the coal face, resulting in output of just one ton of coal per miner per day, compared to 40 tons in the United States where mines are mechanized.

Chinese media has been driving calls for change, demanding more investment and better conditions. With pressure growing, China's central government last month pledged the government would do more.

It has been reported that China would spend 51.8 billion yuan (US$6.2 billion) on better safety in mines.




Today's Top News
Top China News

Liaoning mine blast toll rises to 210, rescue underway




Chinese protest against move on islands




CPC punishes corrupt officials in 2004




France pushes to lift China arms ban




Snow challenges returning crowds




S.Korea proposes military talks with North