Harbor for HIV/AIDS carriers a covert isolation?
(Xinhua/Agencies)
Updated: 2005-02-16 08:50
A hospital in North China's Shanxi Province had set up a complex for HIV/AIDS sufferers where they could receive treatment and make a living, Xinhua News Agency reported Tuesday.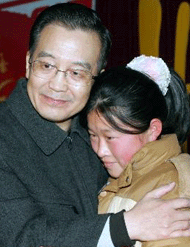 Chinese Premier Wen Jiabao hugs a girl whose parents died of AIDS in a village in Shangcai County, Central China's Henan Province on February 8, 2005, the eve of the traditional lunar new year and a grand occasion for family reunion. [Xinhua]

Some 20 patients had been treated at the 90-mu (6-hectare) compound of hospital wards, entertainment venues and farmland since it opened on July 24 last year.

The Linfen City Infectious Disease Hospital last year rented the land from Licun Village, some 10 kilometers from the hospital, with 1.5 million yuan (US$182,926). Hospital staff called it "Green Harbor," in the hope that it could offer not only physical treatment but also psychological comfort for HIV/AIDS sufferers and their families.

The area is divided into three zones: treatment zone, logistics zone and work zone.

Patients and their families can grow grain, vegetables and flowers in the 70-mu work zone, and then sell the farm produce to make some money.

The area also has an entertainment venue, a library and a gym.

There are 840,000 HIV/AIDS sufferers in China. While the Chinese people's knowledge of HIV/AIDS was improving greatly, there was still wide-spread fear and bias toward the disease.

As a result, many HIV/AIDS suffers can't work like normal people although their symptoms had not fully developed.

While different views voice on the Internet doubting the "green Harbor" a covert isolation of HIV/AIDS suffers from a normal society.

"They may feel abandoned by the society as they are strinking labeled as HIV/AIDS suffers by living in this kind of place." said one citizen on a Chinese online bulletin.




| | |
| --- | --- |
| | |
| Delicacy at temple fair: Insects on skewers | |

| | |
| --- | --- |
| | |
| Julia Roberts releases photos of twins | |

| | |
| --- | --- |
| | |
| Chinese celebrate Valentine's Day | |
Today's Top News
Top Life News

Liaoning mine blast toll rises to 209, rescue underway




Chinese protest against move on islands




CPC punishes corrupt officials in 2004




Snow challenges returning crowds




S.Korea proposes military talks with North




Likely Iraq PM promises moderation