Lebanese vent anger on Syria after Hariri killing
(Agencies)
Updated: 2005-02-16 08:47
Lebanese opposition leaders on Tuesday bluntly implicated Syria in the assassination of former Prime Minister Rafik al-Hariri, with mourners taking out their anger on Syrian workers in the former prime minister's hometown.
The United States said it would recall its ambassador to Syria for urgent consultations to show anger with Damascus over its dominant role in Lebanon. But the White House said it was too early to tell who was behind Monday's car bomb attack.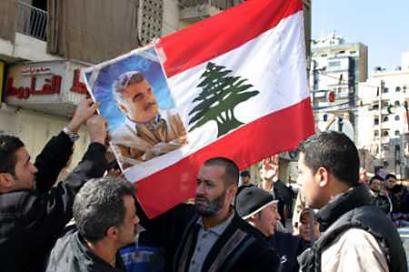 Lebanese supporters of former prime minister Rafik al-Hariri hold aloft a flag and Hariri's portrait in Beirut c February 15, 2005. Lebanon shut down on Tuesday to mourn former Hariri, whose death in a huge car bomb cast a harsh spotlight on troubled relations with Syria and revived memories of the 1975-90 civil war. [Reuters]
The Sunni Muslim billionaire's death has revived memories of a 1975-90 civil war and spotlighted Lebanon's troubled ties with its powerful neighbor, which keeps 14,000 troops on Lebanese soil and plays a strong powerbroking role resented by some.
"This (Lebanese) regime is backed by the Syrians. This is the regime of terrorists and terrorism that was able yesterday to wipe out Rafik al-Hariri," Druze leader Walid Jumblatt said after presenting his condolences to Hariri's family in Beirut.
"I charge the Lebanese-Syrian police regime with the responsibility for Hariri's death," he said.
Thousands of protesters took to the streets in the northern Sunni port city of Tripoli and hundreds demonstrated in Hariri's hometown of Sidon, shouting slogans blaming Syrian President Bashar al-Assad for his death, witnesses said.
A crowd of mourners assaulted Syrian workers with sticks and stones near Hariri's brother's house in Sidon, injuring five of them. A Syrian lorry was set on fire in north Lebanon.
Exiled former general Michel Aoun, a Maronite Christian and long-time foe of Syria, said Damascus was indirectly, if not directly, responsible for the Hariri's killing.
"There are many Syrian and Lebanese intelligence services working in Beirut and they control everything in the country. I don't think that if they were taking care of Hariri he would be attacked so easily," Aoun told Reuters by telephone.
U.N. SECURITY COUNCIL
Ambassador Margaret Scobey was called back to Washington to "talk about these concerns and to talk about where we go from here with Syria," White House spokesman Scott McClellan said.
The U.N. Security Council asked Secretary-General Kofi Annan to urgently look into the killing, a measure the United States hopes will lead to further action by the world body.
The Bush administration wants Security Council members to consider measures that could be taken against the perpetrators of the assassination of Hariri, said Richard Grenell, spokesman for the U.S. mission to the United Nations.
The council, in a statement read at a public meeting, asked Annan to report "urgently on the circumstances, causes and consequences of this terrorist act."
Shops and offices shut for three days of official mourning and the Lebanese army went on alert ahead of the funeral, set for Wednesday.
Syrian Vice President Abdel-Halim Khaddam was among those who filed into Hariri's palatial home to pay condolences.
"This crime targeted the Lebanese dream, Lebanese security and Lebanese peace," said Khaddam, a friend of Hariri.
Hariri, 60, who masterminded postwar reconstruction, was killed along with 14 others when a car bomb ripped through his motorcade in Beirut's seafront luxury hotel district. About 135 people were wounded in the biggest explosion since the war.
Interior Minister Suleiman Franjieh said a suicide car bomber might have carried out the attack, which gouged a crater in the middle of the road as Hariri's convoy drove by.
"It could have been that someone was driving the car and it might have a been a suicide (attacker) who blew himself up," he told a news conference, citing initial investigations.
A previously unknown Islamist group said on Monday it had carried out a suicide attack against Hariri, who also holds Saudi citizenship, because he supported the Saudi royal family.
Hariri resigned as prime minister in October after falling out with Syria over its role in extending the term of his political rival, President Emile Lahoud.
He then joined opposition leaders in calling for Syria to withdraw its troops and stop interfering in Lebanese affairs, as demanded by the U.N. Security Council resolution.
Israeli Prime Minister Ariel Sharon set new conditions for any negotiations with Syria on Tuesday, saying Damascus must first withdraw troops from Lebanon in line with the resolution.
Israel had previously said only that Syria had to stop supporting Palestinian militant groups with offices in Damascus before there could be any resumption of talks, which foundered in 2000.
Syria, seeking the return of the Israeli-occupied Golan Heights, has recently called for new negotiations.
Political tension had already been building in Lebanon as campaigning began for parliamentary elections in May which were widely seen as a test of Syria's influence.
But Franjieh said "the elections will take place on schedule."
Syrian state media said Syria had embraced Hariri "as one of its own sons" and condemned his killing.
Today's Top News
Top World News

Liaoning mine blast toll rises to 209, rescue underway




Chinese protest against move on islands




CPC punishes corrupt officials in 2004




Snow challenges returning crowds




S.Korea proposes military talks with North




Likely Iraq PM promises moderation