Rescue work continues after coal mine blast
(Xinhua)
Updated: 2005-02-16 01:53
The death toll from a coal mine blast in Liaoning Province increased to 209 by Wednesday morning, with the discovery of six more bodies in the shaft, according to a Xinhua report.

The number of the injured is 29 and six miners are still reported as missing.

The deadly coalmine gas explosion, which took place Monday afternoon in Fuxin, a coal mining city in northeast China's Liaoning Province, is the worst in decades in the dangerous mining industry.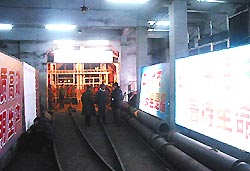 People wait for rescuers to come up at the gate of the pit where the blast ocurred. [newsphhoto]

Zhang Yunfu, deputy general manager of the Fuxin Coal Industry Group, said the gas blast occurred at 3:03 p.m. Monday at the shaft about 242 meters underground in Sunjiawan colliery .

According to Zhang, 330 out of the 574 miners on duty escaped, and 244 miners were trapped beneath the shaft. Some 203 have been confirmed dead and another 29 injured, including the worker in charge of ventilation system who was rescued after the disaster. The whereabouts the rest 12 are still not found yet.

The blast has aroused great concern of top Chinese leaders. Chinese President Hu Jintao asked the local governments of Liaoning Province to spare no effort to save miners trapped. Chinese Premier Wen Jiabao and Vice Premier Huang Ju also instructed local officials to rescue the victims, find out the cause of the accident and deal with the aftermath.

A work team led by State Councilor Hua Jianmin arrived at the accident site Tuesday morning. Hua and his team will try their best to find the missing, treat the injured, prepare compensations for the families of the victims.

A medical expert team, sent by the first hospital affiliated to the Chinese Medical Sciences University, is on its way from Shenyang, capital of the province, to the general hospital of the Fuxin coal industry group, where most of the injured were hospitalized.

The Sunjiawan colliery has 3,100 workers and two coal mines. The Haizhou coal mine, the one where the disaster took place, produces 1.5 million tons of coal annually.




Today's Top News
Top China News

Rescue work continues after coal mine blast




Chinese protest against move on islands




CPC punishes corrupt officials in 2004




Snow challenges returning crowds




Likely Iraq PM promises moderation




Guidelines help firms invest in shares