CPC punishes corrupt officials in 2004
(Xinhua)
Updated: 2005-02-16 01:11
Chinese Communist Party (CPC) had disciplined 164,831 party cadres, including 15 at ministerial level in the year 2004 in effort to stamp out corruption, the party's discipline chief said.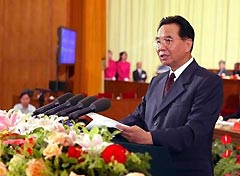 Wu Guangzheng delivers a speech at a meeting on March 1, 2004. [newsphoto/file]

Wu Guanzheng, secretary of the CPC Central Commission for Discipline Inspection, the party's watchdog, made the remarks in his report to the commission's Fifth Plenary Session. The report was published on Tuesday.

From December 2003 to November 2004, the commission had settled 160,602 cases concerning party cadres' misconduct. It disciplined 164,831 party members and transferred 4,775 serious offenders to the judiciary departments, according to the report.

"We punish every rotten cadres we can find. No one can walk away with corruption," said Wu, who is also a member of the Standing Committee of the Political Bureau of the CPC Central Committee. "We will never go soft on this issue."

Wu said the anti-corruption campaign last year paid attention to the leading officials who took bribes or allowed their spouses or children to take advantage of public resources in their private businesses.

The commission detected 2.5 billion yuan (303.7 million US dollars) of public funds that were misused by party officials in 2004. Another 1.46 billion yuan were found to be used on buying commercial insurance for staffers, a move which is prohibited, the report said.

Wu said efforts were enhanced to wipe out corruption that infringes on the interests of the disadvantaged people, such as farmers in land acquisition deals, urban residents in relocation projects, employees of state-owned firms in corporate regrouping and bankruptcy deals and migrant workers with delayed wages.

Last year, various departments under the State Council canceled or adjusted 1,806 administrative licensing tasks, about half of the total. The move left little room for officials to abuse power, the report said.

Meanwhile, the commission engaged in last year's work to rectify the market order, in which it handed severe punishments to 216 officials that were being held responsible, according to the report.

"Despite the achievements, our anti-graft campaign failed to effectively cover certain localities where corruption was rampant, and local people were dissatisfied because their interests were not properly protected," Wu said.

He vowed to increase efforts in the new year to stamp out corruption. "We will improve the system to uproot corruption," he said.




Today's Top News
Top China News

Rescue work continues after coal mine blast




Chinese protest against move on islands




CPC punishes corrupt officials in 2004




Snow challenges returning crowds




Likely Iraq PM promises moderation




Guidelines help firms invest in shares