Suns defeat Warriors 106-102 in overtime
(Agencies)
Updated: 2005-02-14 15:21
Jimmy Jackson hit a go-ahead shot in the lane with less than 20 seconds left in overtime and the Phoenix Suns (news) overcame a second-half drought to beat Golden State 106-102 Sunday night and tie San Antonio for the best record in the NBA.
The league's top offensive team struggled to score in the second half and was forced to go to overtime against the last-place Warriors.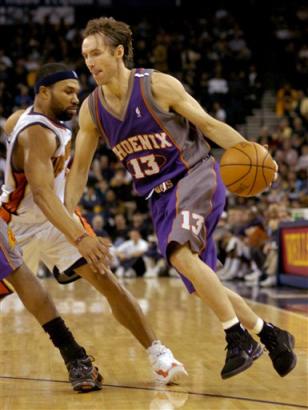 Phoenix Suns guard Steve Nash of Canada dribbles around Golden State Warriors guard Derek Fisher in the first quarter Sunday, Feb. 13, 2005, in Oakland, California. [AP]

Trailing by four in the extra session, Joe Johnson converted a three-point play with 53.3 seconds to go. After Speedy Claxton missed a jumper in the lane, Jackson came back to convert his basket with 19.9 seconds to go.

Jason Richardson missed a drive with about 12 seconds left and Quentin Richardson made one free throw to make it 104-102.

Jason Richardson missed again on a drive at the other end as Shawn Marion got a piece of his shot. Marion then added two free throws to ice it.

Johnson led Phoenix with 23 points. Marion had 21 points and 16 rebounds, Quentin Richardson scored 21 and Steve Nash added 20 points and 12 assists as the Suns (40-12) won for the ninth time in 11 games following a six-game losing streak.

Amare Stoudemire was held to nine points by Golden State, snapping his string of 11 straight 20-point games.

Mike Dunleavy had 24 points and 12 rebounds, Derek Fisher had 19 and Jason Richardson added 18 points and 12 rebounds for the Warriors, who have won just three times in 22 games in 2005. Adonal Foyle tied his career high with 20 rebounds.

Golden State forced overtime by holding the Suns to just 13 points in the fourth quarter. Phoenix still had a chance to win it, but Nash missed a baseline jumper at the buzzer.

The Warriors used a 14-0 run starting at the end of the third quarter to take a 82-81 lead, their first since it was 10-9 in the first quarter. Golden State added an 8-0 run later in the fourth to go up 92-85 with 3:14 to go.

But Phoenix turned it around, starting with a dunk by Marion. The Suns were just 9-for-36 in the second half before Marion's dunk.

Stoudemire hit one free throw and Marion added a jumper to make it 92-90. After a jumper by Speedy Claxton, Nash scored on a drive and Marion had another dunk to tie it.

Quentin Richardson scored 15 points in the first quarter and Nash had 10 points and five assists in the second as the Suns led 59-45 at the half. Phoenix shot 62 percent in the half and held the Warriors to just 35 percent.

Golden State's struggles were summed up during a three-minute stretch in the second quarter when Foyle missed a dunk, an easy putback and two tip-in attempts.




| | |
| --- | --- |
| | |
| Rockets drive out Timberwolves 119-113 in OT | |

| | |
| --- | --- |
| | |
| Spurs vs Lakers | |

| | |
| --- | --- |
| | |
| Roddick vs Enqvist | |
Today's Top News
Top Sports News

Shi'ite bloc wins Iraqi election




China to launch census of securities sector




North Korea not yet a nuclear weapons state




Eight people killed as overloaded bus turned over




Firecrackers boom in spite of ban




Accident kills two HK tourists