Shi'ite bloc wins Iraqi election
(Agencies/Xinhua)
Updated: 2005-02-14 07:16
A Shi'ite alliance won Iraq's first election since Saddam Hussein's overthrow, sealing the new political dominance of the country's majority.
The Electoral Commission said yesterday the Shi'ite bloc, known as the United Iraqi Alliance, took 47 per cent of the vote, less than the bloc had predicted.
A Kurdish alliance came second with 25 per cent, while a grouping led by interim Prime Minister Iyad Allawi came third with 13 per cent.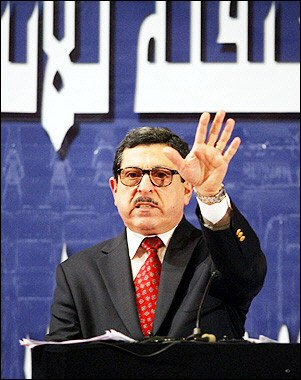 Iraq's electoral commission official Farid Ayar announces in Baghdad the final results of the general elections, two weeks after Iraqis took part in their first free polls in five decades. [AFP]

Few Sunni Arabs took part in the voting, which effectively marginalizes the minority that has traditionally ruled modern Iraq and held a privileged position under Saddam, a Sunni.

The commission said 8.55 million Iraqis, or 58 per cent of registered voters, cast ballots in the election, Iraq's first multi-party poll for half a century, on January 30.

Sunni Arab turnout was low. Only 2 per cent of eligible voters in the Sunni-dominated Anbar province cast ballots, and only 29 per cent in the Sunni Salahadin province.

Sunnis, who make up about 20 per cent of Iraq's 27 million people, will be under-represented in the National Assembly that will now be formed.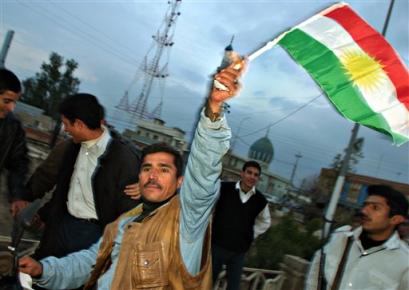 An unidentified Kurdish supporter waves a Kurdish flag as he runs through the streets despite a curfew, celebrating a strong electoral result for the Kurds, in Kirkuk, in the northern Kurdish area of Iraq Sunday, Feb. 13, 2005, after results for the Iraqi general election were announced. Iraq's majority Shiite Muslims won nearly half the votes in the nation's landmark Jan. 30 election, but will have to form a coalition in the 275-member National Assembly with the other top vote-getter - the Kurds and Prime Minister Ayad Allawi's list. [AP]

Many Iraqis in Sunni Arab areas stayed away from the polls, some because they feared attacks by insurgents who had vowed to wreck the vote and some because several leading Sunni Arab political groups called for a boycott.

The vote tally will determine the composition of a 275-member provisional National Assembly that must agree on a president and two vice-presidents by a two-thirds majority. Those three officials will then agree on a prime minister and cabinet, and their choices must be approved by the assembly.

With no bloc gaining dominance on its own, there has already been furious horse-trading to try to strike deals.

The United Iraqi Alliance insists that one of its candidates - probably current Finance Minister Adel Abdul Mahdi or Vice-President Ibrahim Jaafari - be appointed prime minister.

The Kurds want their candidate, Jalal Talabani, to be president or prime minister.

But Allawi, who visited Kurdistan on Saturday and met Talabani, may also try to form alliances to improve his chances. If he can make a deal with the Kurds and persuade some of the Shi'ite alliance to break away, he may be able to keep his job.

Even if Sunni Arabs are largely shut out of government, they could still potentially veto the new Iraqi constitution due to be written this year, causing political deadlock. One of the main tasks of the National Assembly is to oversee the drafting of a constitution which must be approved by a referendum.

Repeated attacks

Insurgents have mounted repeated attacks against US troops, Iraqi security forces and government officials, and also against Shi'ites - raising fears the country could slide towards sectarian civil war.

Iraq has announced it will close its land borders from Thursday to try to prevent a flood of foreign pilgrims arriving for Ashura, one of the holiest events in the Shi'ite calendar, when millions of people converge on shrines in Iraq.

The bodies of two men who worked with Allawi's party were found in a rebellious district of Baghdad yesterday, police said. In the northwest of the capital, gunmen assassinated two senior Iraqi army officers and their driver. The al-Qaeda network in Iraq claimed responsibility for the attack.

On Saturday, a suicide car bomb killed 18 people in Musayyib, a mixed Sunni and Shi'ite town south of Baghdad.

The previous day, a suicide car bomb near a Shi'ite mosque killed 13 people in Balad Ruz, and gunmen attacked a Shi'ite bakery in the capital, killing nine.




Today's Top News
Top World News

Shi'ite bloc wins Iraqi election




China will push for N.Korea 6-party talks




Japan action violation of Chinese sovereignty




President visits villagers in minority region




Palestinian militants adhere to truce




Firecrackers boom in spite of ban