Firecrackers boom in spite of ban
(China Daily)
Updated: 2005-02-14 08:42
Firecracker booms rocked urban Beijing with bright flashes during this year's Chinese Lunar New Year holiday, challenging the city's 12-year-old ban on the festive but often dangerous explosives.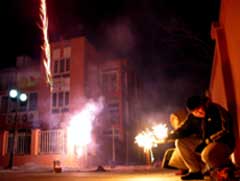 Residents light fireworks at a community in suburban Beijing's Daxing District, where firecrackers are not banned. More Beijingers ignored the ban and put on fireworks in the downtown area during the New Year Holiday this year. [China Daily]

Even within the Second Ring Road, the innermost areas of Beijing's city proper, crackers were constantly heard,set off by unidentified residents, though posters reading "firecrackers forbidden" are seen in nearly every street.

Most Beijingers seem quite used to this kind of defiance which has been seen nearly every year since firecrackers were first banned in 1993.

This year, however, the city put a special office in charge of the firecracker ban and expanded the banned areas beyond the Fifth Ring Road into some densely inhabited areas on the outskirts.

Before the holiday, the office sent a short message to cell phone subscribers to remind them of the firecracker ban.

On Tuesday, the Chinese New Year's Eve, Beijing police sent 130, 000 policemen, market regulators and volunteers to patrol the urban streets, but firecrackers were still constantly heard, particularly in areas near the Fourth and Fifth ring roads.

"We stepped up publicity work weeks before the holiday and it worked to some extent," said Vice-Mayor Ji Lin. But still, he admitted some areas were "out of control."

Some residents had bought firecrackers from rural markets beforehand and set them off when they heard others first do so.

The booming of firecrackers mark the passing of the old year, said a Beijing resident surnamed Meng, who is firmly against the ban. "That's the tradition handed down from generation to generation," he said.

Meng confessed he led his family to light firecrackers in his downtown neighbourhood on the eve of the Chinese New Year because he "used to do the same every year as a child."

Even a lawyer set off firecrackers near his downtown resident in Dongzhimen, where the explosive is strictly banned.

"Childhood memories still cling to me and I cannot help lighting firecrackers to celebrate the family festival and particularly to make my son happy," said Wang Xiaohui, 37, who has been an attorney in Beijing for 15 years.

"The Chinese New Year in the traditional sense is a carnival," said Zheng Yimin, vice-chairman of the China Federation of Literary and Art Circles. "With firecrackers banned, the festival is far less joyous."

Though Beijing's lawmakers deliberated the residents' call for removal of the firecracker ban during their annual session in 2004, the local legislature eventually upheld the ban on safety grounds.

The firecracker ban office told Xinhua on Saturday that this year alone, 53 Beijingers were injured by firecrackers on New Year's Eve on Tuesday as they set off firecrackers.

19 injured

Two leading downtown hospitals, Tongren and Jishuitan, received 19 people injured by firecrackers during the most festive hours between 6:00 pm on Tuesday and 1:00 am on Wednesday. The number of injured is more or less the same as last year.

But the good news is the city's firemen put out 99 fires caused by firecrackers on New Year's Eve, down 36 per cent from last year, said a spokesman from the firecracker ban office.

"It is dangerous to light firecrackers but we cannot ban everything that is dangerous. We cannot ban cars and buses to avoid traffic accidents for example," said Zhang Zhongli, an attorney with Beijing Jiacheng Law Firm.

His view is echoed by many Chinese.

Responding to residents' calls, 105 Chinese cities have removed the firecracker ban, including Shanghai.

Fireworks attract big crowds

DALIAN: Local people and tourists gathered in Xinghai Bay Square to appreciate the fireworks during their Spring Festival holiday.

Many different kinds of glittering fireworks over four days of displays lightened the night sky and helped bring about a festive atmosphere.

The city has celebrated its Spring Fireworks and Firecrackers Festival since 1996.

Setting off fireworks, a traditional custom for Chinese people, is an activity which most people participate in and enjoy.

"I come to see the fireworks show every year and this year's event was amazing, even better and more beautiful than before," said one spectator, surnamed Niu.

Many people climbed to a high point in order to get the best view. In spite of the cold, the crowd watched attentively and cheered at the various explosions and change of colours and shapes in the sky. After the 20-minutes show, many people couldn't wait to set off their own fireworks.

The spectators also enjoyed several kinds of delicious delicacies.

Some of the most popular and more old-fashioned attractions were four Mongolian yurts. There, people sat and had barbecued food, drank milk tea, listened to Mongol stringed instruments, and enjoyed performances of folk music.

To get away from the cold, people could go into the Xinghai Fair and Exhibition Centre and do exercise.

Badminton, billiards, table tennis and basketball were all on offer.

Over at Labour Park, another festival venue, there are more than 10,000 lanterns and lights in readiness for the Lantern Festival, which falls on the 15th day of the first month in the lunar year, or February 24.




Today's Top News
Top China News

China will push for N.Korea 6-party talks




Shiites dominate Iraq election; Kurds 2nd




Japan action violation of Chinese sovereignty




President visits villagers in minority region




Palestinian militants adhere to truce




100 Chinese cities lift 10-year firework ban