Avalanches kill 46 in Pakistani Kashmir
(Agencies)
Updated: 2005-02-13 10:32
Forty-six people were killed in a series of avalanches in Pakistan-controlled Kashmir, police said.
Thirty-three people were killed when an avalanche buried several houses in the region's remote northeastern Mayyatan Wali Seri village early Saturday, said senior police officer Tahir Mahmood Qureshi.
"Nine houses were completely destroyed, burying 20 females and 13 males alive," Qureshi said.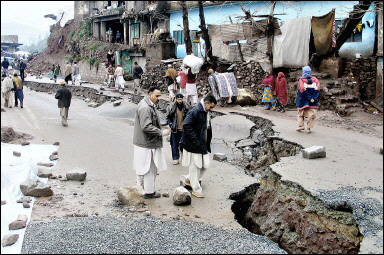 Kashmiris survey a devastated street following an avalanche in Muzaffarabad. Forty-six people were killed in a series of avalanches in Pakistan-controlled Kashmir, police said. [AFP]

He said authorities had recovered the bodies of two women and 10 children and were trying to find the others.

The bodies of two women and four children had also been retrieved from Khawaja Seri village in Neelam Valley, hit by an avalanche on Wednesday.

A man and a woman died and another man was seriously injured in the remote village of Janawai in Neelam valley when their house caved in after it was hit by an avalanche overnight Friday, Qureshi said.

And five members of a family died when their house was struck by an avalanche in southeastern Leepa valley, he said.

"The dead included a couple and their two daughters," he said, adding that another son of the couple was recovered from the snow alive.

Nearly two metres (six feet) of snow has fallen in Leepa valley, which was inaccessible by road.

Two Pakistani army soldiers were killed in an avalanche in Neelam Valley on Thursday, they said.

Eight other people were killed late Friday in northern Astore valley, outside Kashmir, when their village was hit by a mass of snow and falling rocks, police said.

The avalanche destroyed all 22 houses in the village, they said.

Pakistan has been in the grip of a cold snap since February 3 with the mountainous north, including Pakistan-controlled Kashmir, receiving heavy snow falls almost daily.

Severe weather has claimed more than 180 lives across the country in the past week, including 80 when a dam burst in southwestern Pakistan.




Today's Top News
Top World News

China will push for N.Korea 6-party talks




Final Iraq poll vote tally due Sunday




Japan action violation of Chinese sovereignty




Palestinian militants adhere to truce




100 Chinese cities lift 10-year firework ban




Gov't adjusts economic growth projections