Saulnier reaches first final at San Jose
(Agencies)
Updated: 2005-02-13 09:43
Cyril Saulnier kept his cool and kept slugging away until he wore down Jurgen Melzer and his bum ankle.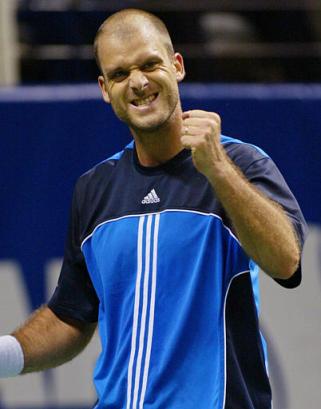 Cyril Saulnier of France reacts after winning a point in the last game of his semifinal match against Jurgen Melzer of Austria on Saturday Feb. 12, 2005, at the SAP Open in San Jose, Calif. Saulnier beat Melzer 6-7 (3), 6-3, 6-3. [AP]
The unseeded Frenchman rode his steady slicing groundstrokes to rally from a set down for a 6-7 (3), 6-3, 6-3 victory over Melzer in the SAP Open semifinals Saturday to reach his first career final.
"I'm very happy. To get there is a lot of work," Saulnier said. "I told myself to keep fighting and stay aggressive."
Melzer was in control of the match until he severely sprained his left ankle in the second game of the second set when he lunged for a forehand volley winner by Saulnier that was hit at a sharp angle. Melzer called for a trainer, who wrapped him up, but he struggled to cover the court, despite his gutsy effort to chase down many tough shots that made him the fan favorite in the 2-hour, 8-minute match.
Melzer's coach, Karl-Heinz Wetter, said it would have been "impossible" for Melzer to play in Sunday's final had he pulled out a win. Wetter has already asked tournament officials in Memphis to allow Melzer to play his first-round match Wednesday so he can undergo two daily sessions of treatment the next few days.
"I was playing all right. I was dictating the game," Melzer said. "After that happened, it was tough for me. I couldn't move to my forehand and it was tough on some backhands. My game wasn't the same as before. But some guys get tight and you might have a chance to get back in the match."
The 29-year-old Saulnier, ranked 55th, had been 0-for-3 in previous semifinal appearances and beat Melzer for the third time in as many meetings behind 12 aces. Saulnier played in his first ATP semifinal since losing in Los Angeles to Tommy Haas last year. If he wins the title Sunday, Saulnier will break the top-50 in next week's ATP Tour rankings for the first time.
"It's my goal to go higher," he said. "But it's just a goal. You have to work a lot."
Melzer, an Austrian ranked 36th, ousted second-seeded and five-time Bay Area champion Andre Agassi 6-3, 6-1 in 59 minutes in Friday's quarterfinals. But he couldn't bounce back after the ankle injury. He also had an outburst late in the second set in which he yelled at chair umpire Norm Chryst, calling the official "the worst."
Then, he did not shake hands with Chryst after the match.
Melzer fell to 7-4 this season. Neither player had dropped a set in this tournament before Saturday.
Defending champion and top-seeded Andy Roddick was set to play third-seeded Haas in the evening session. Roddick needed a hard-fought 3-6, 7-6 (6), 7-5 quarterfinal win on Thomas Enqvist to advance.
Haas had won four of six career meetings against Roddick, whose only loss this season was a frustrating four-set semifinal exit at the Australian Open (news - web sites) to runner-up Lleyton Hewitt. But Roddick had won the last two meetings with Haas, including 9-7 in the third set of their match in the Athens Olympics last summer in the round of 32.
Roddick admitted he's not playing his best tennis, but said he was pleased to be playing well enough to advance here.
| | |
| --- | --- |
| | |
| Rockets drive out Timberwolves 119-113 in OT | |

| | |
| --- | --- |
| | |
| Spurs vs Lakers | |

| | |
| --- | --- |
| | |
| Roddick vs Enqvist | |
Today's Top News
Top Sports News

China will push for N.Korea 6-party talks




Japan action violation of Chinese sovereignty




Car bomb kills 17 outside Iraqi hospital




100 Chinese cities lift 10-year firework ban




Gov't adjusts economic growth projections




President visits villagers in minority region