President visits villagers in minority region
(Xinhua)
Updated: 2005-02-12 10:09
During the Chinese Lunar New Year, President Hu Jintao came to Nahui Village in Guizhou Province, inhabited by people of the Buyi and Miao ethnic groups to send new year's greetings.
President Hu was welcomed by a grand Buyi ceremony. Fragrant rice wine and traditional Buyi dancing were prepared for him just outside the village.
Hu drank the rice wine and waved to the crowd as he entered thevillage. He came to the family of Zha Lanming, a poor Buyi villager.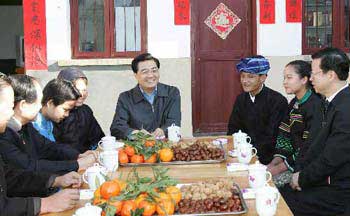 President Hu Jintao Tuesday asked local officials to help farmer Zha Lanming to build up family fortunes and improve living standards when he visited Zha's home in a village in Xingyi City of Guizhou Province, southwest China, on the eve of the Spring Festival. [Xinhua]
When he found that the family's windows had no glass, Hu turnedto Zha Lanming and said, "You'd better find some plastic sheeting to block the windows in order to keep your room warmer."
Then Hu entered Zha's kitchen. He lifted up a tea kettle to examine the family's primitive wood stove and asked if Zha had enough coal reserves and how many glutinous rice cakes -- a traditional Buyi snack -- he had prepared for the lunar new year.
Hu appeared relieved after hearing that Zha's family had prepared 30-35 kg of glutinous rice cakes for the lunar new year holiday.
Hu also chatted with Zha Fangliang, Zha Lanming's son, who is studying at the Guizhou Normal University. After learning that Zha Fangliang bears a very heavy financial burden for his university education, President Hu gave some money to Zha Fangliang and encouraged him to study hard.
Before leaving Zha's family, Hu presented them with a TV set asa new year gift. He also asked local officials to do their best to give poor residents a happy and affluent life.
Then President Hu walked into villager Cen Jixing's family. This is a quite affluent family. Cen had developed a rural tourism business -- inviting urban citizens to visit the Buyi village and taste Buyi food. The tourism business brings Cen's family an annual revenue of 20,000 yuan.
President Hu asked local officials and villagers in Cen's family about the village's per capita income and the price of fertilizer and whether the villager's economic burden was really reduced after the announcement of agricultural tax reduction and exemption.
Hu's detailed questions were all given straightforward answers.Some villagers complained that the price of fertilizer was quite high, making it hard for farmers to make money.
Other villagers said the policy of agricultural tax reduction and exemption has brought true benefits to them. Every villager here saved more than 50 yuan last year thanks to the policy.
Before leaving Cen's family, President Hu presented Cen with a beautiful tea set and a dinner set, wishing his business more success in the coming year.
Today's Top News
Top China News

China will push for N.Korea 6-party talks




Final Iraq poll vote tally due Sunday




Japan action violation of Chinese sovereignty




Palestinian militants adhere to truce




100 Chinese cities lift 10-year firework ban




Gov't adjusts economic growth projections