Abbas in Gaza to press militants to abide by truce
(Agencies)
Updated: 2005-02-12 10:04
Palestinian President Mahmoud Abbas traveled to the Gaza Strip on Friday for talks with militants after fighters bombarded Jewish settlements and threatened his truce with Israeli Prime Minister Ariel Sharon.
A senior aide to the new Palestinian leader said the talks with Hamas and Islamic Jihad, originally planned for Friday, had been postponed until Saturday, but gave no reason for the delay.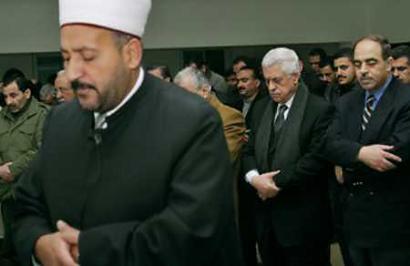 Palestinian President Mahmoud Abbas(C) attends Friday prayers in the West Bank city of Ramallah, February 11, 2005. Abbas will demand obedience from militant factions in talks on Friday after fighters bombarded Jewish settlements in Gaza despite a ceasefire declared at a summit with Israel. [Reuters]
Armed groups began observing a general calm last month at Abbas's behest but have rejected any formal truce, saying they were not bound by his mutual pledge at a summit on Tuesday with Sharon to halt violence.
Hamas has said the mortar and rocket barrage was in response to the killing of a Palestinian by Israeli troops near a settlement on Wednesday. Troops said they fired on suspected intruders. Palestinians said the man was a civilian walking near his home.
In a show of resolve after pledging to end more than four years of violence at the summit with Sharon, Abbas sacked nine security chiefs and deputies on Thursday for failing to prevent the rocket attack.
"Abbas was absolutely furious about the security deterioration in Gaza," a senior Palestinian official said.
Elected on Jan. 9 to succeed Yasser Arafat on a platform of non-violent struggle, Abbas will follow up on the dismissals with a no-nonsense message to Islamist militant leaders at the talks in Gaza City, aides said.
"It will be that they must honor the ceasefire and that there is only one authority and one leadership, as Abbas said at Sharm el-Sheikh and during his presidential campaign," Palestinian chief negotiator Saeb Erekat told Reuters.
U.S. EFFORTS
In a sign of U.S. efforts to advance peace, the State Department said Army Lt. Gen. William Ward, named to help Palestinians reform their security forces, would probably visit the Middle East this month.
"Before the end of the month he would go out there, establish contact with the players -- not only the parties themselves but also the regional players -- (and) start looking at how to build Palestinian security services that can handle the violence," spokesman Richard Boucher told reporters.
Abbas is trying to fulfil a condition of calm to begin talks on a Palestinian state under a U.S.-backed "road map" peace plan that has been stalled by violence.
Israel demands he round up militants, but Abbas has said he prefers to co-opt them rather than confront them.
Armed groups seized de facto power on the Palestinian street during the uprising.
Israel did not retaliate for the mortar and rocket barrages, and officials said they would give Abbas a chance to rein in the gunmen. General calm prevailed across Gaza again on Friday.
"He (Abbas) will inform the factions of the positive results that were achieved in the successful summit in Sharm El-Sheikh," said Abbas aide Tayeb Abdel-Rahim.
"I believe most of the results they demanded have been achieved in that successful summit."
Militant groups have demanded Israel stop its attacks and raids in the West Bank and Gaza, including what Israel calls "targeted killings" and Palestinians describe as assassinations.
They also want Israel to release all 8,000 Palestinian prisoners in its jails. Israel plans to free 500 next week, with 400 more to follow, as a goodwill gesture to Abbas.
A spokesman for one militant group, the Popular Resistance Committees, said it would show restraint for now "to give a chance for the political leadership to reach a conditional truce."
Today's Top News
Top World News

Japan action severe violation of Chinese sovereignty




US rejects one-on-one North Korea talks




23 die in Iraq attacks on bakery, mosque




Prince Charles to marry Camilla




Iran vows 'burning hell' for any aggressor




China finds more oil reserves