60 dead in Pakistan dam burst
(Agencies)
Updated: 2005-02-12 10:04
At least 60 people were killed and hundreds missing in Pakistan after a dam burst and swept whole villages into the sea as the death toll from a week of record rains hit 122.
A wall of melted snow and rainwater escaped from the ruptured Shadi Kor dam near the coastal town of Pasni in southwestern Baluchistan province late Thursday, washing away people, houses, cars and buses in its path.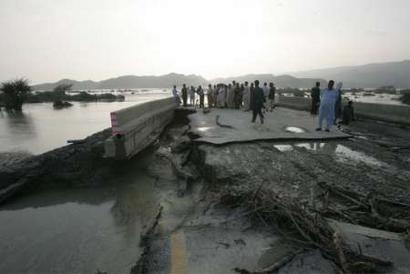 Pakistani rescue workers survey a swept away bridge after flash floods at Hingole in southern Baluchistan province, 250 km (156 miles) from Karachi February 11, 2005. [Reuters]
"It's a big disaster," provincial minister for coastal areas Sher Jan told AFP. "About half a dozen villages have been submerged after the dam burst its embankment.
"I can confirm that 60 people have died," he said. Asked how many people were missing, he replied, "Since it's a large area which has been inundated it could be in the hundreds".
Residents in the disaster zone, which is about 600 kilometres (372 miles) from the provincial capital Quetta, also said many people were missing. Some may have headed for nearby mountains for shelter, the minister added.
Pakistan's President Pervez Musharraf and Prime Minister Shaukat Aziz expressed deep sorrow over the deaths and ordered local authorities to help the affected areas, national television said.
The military led a huge operation to search for survivors and provide aid. Around 20,000 to 25,000 people in 35 villages were left homeless by the flood, Sher Jan later told a news conference, while others lost crops and cattle.
Using helicopters and boats, the army and navy had rescued 1,450 people in the worst-hit villages of Sindhi Puso, Turati, Kurki, Zar Khor and Sharnu Bazar, the minister said. Parts of Pasni itself were also hit.
But rescue efforts were being hampered because floodwater also wiped out 40 kilometres (24 miles) of the coastal highway as well as a number of bridges and some minor roads.
The 25-metre-high, 147-metre-long dam was built in 2003 at a cost of 45 million rupees (758,853 dollars) and used for irrigation. It was full when it burst, the minister said.
Twenty of the dead were on a passenger bus that was washed away by the deluge near Pasni, the minister said. Thirteen survivors were found later, but seven were still missing, he told AFP.
Weather officials said the length of the rainy spell, which began on February 3, appeared to be a record for Pakistan and showed no sign of letting up.
"This is the first time that the rain has continued over such a long period," Chaudhry Qamruz Zaman, director general of the Meteorological Department, told AFP.
At least 62 other people were killed and more were unaccounted for across the rest of Pakistan after heavy rain and snow in the past week.
About 30 soldiers from the army and paramilitary forces have been missing in northwestern Pakistan since Thursday.
"They have lost contact with their base," security chief of the tribal region Brigadier Mahmood Shah told AFP.
Another two soldiers were buried alive by an avalanche near Muzaffarabad, the main town in Pakistani-held Kashmir. They were among six dead in the Himalayan region, police said.
Officials said 35 had died in North West Frontier Province, including 11 people whose house was crushed by a boulder dislodged by heavy snow on Wednesday.
Seven people were killed in the remote South Waziristan tribal zone bordering Afghanistan, and three perished in the central city of Multan.
A family of eight was wiped out when the roof of their village home collapsed in Baluchistan's Pishin district Wednesday and another three people have died in other parts of the province, officials said.
Mountain areas in northern Pakistan were affected by huge snowfalls.
The Karakoram Highway linking Pakistan with China was blocked by landslides at several points, local officials in the Himalayan gateway town of Gilgit said.
The hill resort of Murree, near Islamabad, had more than four metres of snow in the past five weeks -- a 29-year record, state media said.
Today's Top News
Top World News

Japan action severe violation of Chinese sovereignty




US rejects one-on-one North Korea talks




23 die in Iraq attacks on bakery, mosque




60 dead in Pakistan dam burst




Iran vows 'burning hell' for any aggressor




China finds more oil reserves