US rejects one-on-one North Korea talks
(Agencies)
Updated: 2005-02-12 09:28
Arguing it was burned before in one-on-one talks with North Korea, the United States said Friday it had no interest in resuming direct discussions on Pyongyang's nuclear weapons program.
The White House said it continued to support a six-nation process designed to negotiate the elimination of North Korea's nuclear armaments.
But with that process stalled, administration officials were beginning to discuss the possibility of referring the issue to the U.N. Security Council as an alternate approach.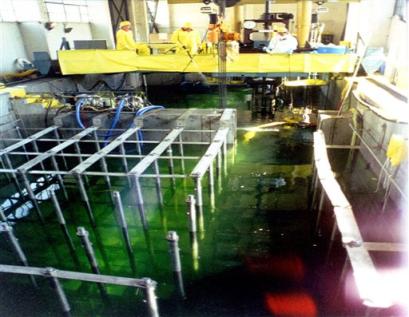 North Korea's spent nuclear fuel rods, kept in a cooling pond, are seen at the nuclear facilities in Yongbyon, North Korea in this Dec. 1996 photo, released from Yonhap News Agency Friday, Feb. 7, 2003. [AP]
The objective there would be to impose international sanctions to persuade North Korean leader Kim Jong Il to abandon his weapons program.
In Sapporo, Japan, Japanese Prime Minister Junichiro Koizumi came down firmly against that idea Friday. He said economic sanctions against the North could end any possibility that Pyongyang might rejoin the six-nation talks and end any chance of their success.
"I understand the feelings behind growing calls for economic sanctions, but dialogue and pressure are important," Koizumi told reporters.
Han Sung Ryol, a senior North Korean diplomat at the United Nations, urged a direct dialogue with the United States in an interview with a South Korean newspaper.
But in a subsequent interview, he appeared to backtrack, telling Associated Press Television News, "No, we do not ask for bilateral talks." He said the key issue for North Korea was whether the United States planned to attack North Korea.
The United States has said repeatedly in recent years that it has no such plans and is intent on seeking a diplomatic solution.
On Thursday, the North Korean Foreign Ministry declared that the country had produced nuclear weapons and said it was calling off participation in the six-nation talks.
White House spokesman Scott McClellan said Friday the United States has no interest in direct talks.
"It's not an issue between North Korea and the United States. It's a regional issue," McClellan said, noting the six-party format includes China, South Korea, Japan and Russia, in addition to the United States and North Korea itself.
At the State Department spokesman Richard Boucher called attention to the unhappy outcome of a 1994 bilateral agreement with North Korea.
"When the U.S. and North Korea had direct negotiations to eliminate North Korea's nuclear weapons program, we got a deal and then North Korea started cheating on the deal very quickly, within a couple years," he said.
The agreement fell apart in 2002 when the Bush administration alleged that North Korea had secretly begun a uranium enrichment program in violation of the spirit of the 1994 agreement.
That in turn led to the six-party disarmament negotiations that began in August 2003. Two subsequent rounds were held with little visible progress.
North Korea had been widely expected to resume the process early this year, but Thursday's statement appeared to rule out that option for the time being.
An administration official, asking not to be identified, raised the possibility of reviving an attempt begun in 2003 to place the issue before the U.N. Security Council.
North Korea was put on the council agenda after it evicted U.N. nuclear inspectors and withdrew from the Nuclear Non-Proliferation Treaty.
The council withheld action after the six-party process got under way. If the council takes up the issue, that could lead to sanctions against North Korea.
The United States has been in touch with China, South Korea, Russia and Japan about North Korea's opposition to renewing the multilateral talks. Secretary of State Condoleezza Rice will meet on Monday with South Korean Foreign Minister Ban Ki-Moon. Japan's foreign and defense ministers will visit Washington Feb. 19.
Boucher said the United States and the four U.S. partners in the talks with North Korea all agree the discussions should resume because they would give North Korea "a chance to have a more normal relationship with the world."
If North Korea agrees to disarm in a verifiable way, it would receive economic benefits from the United States and other countries.
Jack Pritchard, a Korea expert who left the State Department in 2003 because of disagreement with U.S. policies, said North Korea may have decided against resuming the six-party process because of the absence of positive U.S. signals recently.
In the second Bush administration, "the lineup is looking pretty bleak" for North Korea, Pritchard said. Rice included North Korea as one of six "outposts of tyranny," during her confirmation hearing three weeks ago, Pritchard noted.
He also said North Korea may have concluded that keeping its nuclear weapons may be the safest course. He pointed out that India and Pakistan have good relations with the United States and other countries despite the nuclear testing both carried out in 1998.
On the other hand, Pritchard said, the United States attacked non-nuclear Iraq in 2003. The sequence of events, he said, may fall into the category of "lessons learned" for North Korea.
Today's Top News
Top World News

Japan action severe violation of Chinese sovereignty




Car bomb kills 17 outside Iraqi hospital




100 Chinese cities lift 10-year firework ban




Gov't adjusts economic growth projections




US rejects one-on-one North Korea talks




60 dead in Pakistan dam burst