Japan action violation of Chinese sovereignty
(chinadaily.com.cn/Agencies)
Updated: 2005-02-12 09:17
Officials with the Department of Asian Affairs under the Chinese Foreign Ministry had made "solemn representations" to the Japanese side after Japan said it had placed under "state control" a lighthouse built by its nationalists on the Diaoyu Islands.
The Japanese action is a serious provocation and violation of Chinese territorial sovereignty and the Chinese will never accept this, the FM officials said, adding that any unilateral action by the Japanese side is illegal and invalid, according to the website of the ministry.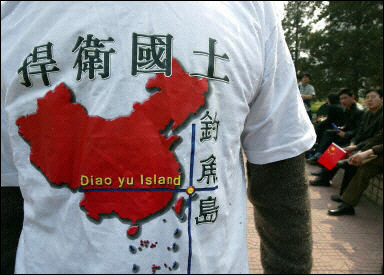 A Chinese protester in a tee shirt showing the Diaoyu islands. [AFP]
Diaoyu Islands has long been Chinese territory and China has undisputable sovereignty over the islands, the officials said.
China has always maintained that the dispute should be addressed by negotiation and consultation. "No unilateral action should be taken," Chinese Foreign Ministry Spokesman Kong Quan said on January 18.
The 5.6-meter (18-foot) lighthouse was erected in 1988 by Japanese right-wing activists to mark a claim on Uotsuri-jima, the largest of the Diaoyu Islands, which lie between China's Taiwan Island and Japan.
"Those who built the lighthouse said they no longer can run it," Japanese Vice Foreign Minister Shuzen Tanigawa said.
"Since they have abandoned the right of possession, it has been transferred" to the state, Tanigawa said.
"Japan has been saying they (the islands) are traditional Japanese territory," he said. "Even if we have some trouble, we are going to protect what we have to protect."
The move comes amid rising tensions between Japan and China, including a dispute over a major gasfield near the islands.
Tokyo has already informed Beijing of the transfer of lighthouse authority, Tanigawa claimed, adding that it had yet to receive any reaction from the Chinese side.
Japan declared the oil-rich but uninhabited islands were part of its territory in 1895, the same year it took over Taiwan.
In March, Japanese authorities arrested and deported seven Chinese activists after they went to the islands, causing a diplomatic row with Beijing.
The activists were the first people to land on the disputed islands since 1996.
Relations between Japan and China have been increasingly strained in recent months in part over disputes about the nearby gasfield where Beijing began drilling in 2003 despite Tokyo's protests.
In December, Japan for the first time listed China as a potential threat in revised defense guidelines.
China, in turn, has been incensed over Prime Minister Junichiro Koizumi's repeated annual visits to Yasukuni shrine, which honors Japanese war dead including war criminals in a bitter reminder of Japan's militaristic past.
China has refused all bilateral state visits due to Koizumi's pilgrimages. The Japanese premier has defended his visits but has not gone to the shrine this year.
Today's Top News
Top China News

Japanese textbook distorts history, stirs fury




Shops called to boycott Japanese goods




ADB: China's economy expected to grow 8.5%




400,000 to relocate for water project




Possible US textile safeguards draw criticism




Shrine visit angers both sides of Straits