Insurgents attack bakery, mosque in Iraq
(Agencies)
Updated: 2005-02-11 20:59
A car bomb exploded outside a Shiite mosque northeast of Baghdad on Friday, killing 13 and injuring more than 40, a police official and witnesses said, while masked men sprayed gunfire into a crowd at a bakery in a mostly Shiite neighborhood in the capital, killing 11 people, police said.
The violence came as Defense Secretary Donald H. Rumsfeld made a surprise visit and said that Iraqis, not Americans, must defeat the country's insurgency.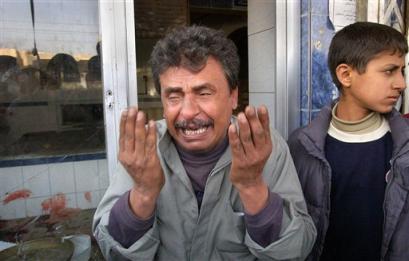 A man grieves at the scene of a shooting at a bakery in the New Baghdad area of Baghdad, Friday, Feb. 11, 2005. Masked gunmen opened fire on a crowd at a Baghdad bakery Friday, killing 11 people, police and witnesses said. [AP]
The car bomb in Balad Ruz, 45 miles northeast of Baghdad, took place as services at the mosque ended, a witness said. Iraqi National Guard troops were among the dead and wounded, police Col. Tahseen Mohammed said.
Mohammed said local residents reported that a pickup truck loaded with vegetables and parked in front of the mosque looked suspicious. When the Iraqi troops approached the truck, it exploded, he said.
The bakery attack in the New Baghdad area occurred after gunmen in several cars blocked the street in front of the shop with their vehicles and entered the shop. They fired on the workers, killing 11 people, an Iraqi police investigator said.
Although the motive was unclear, the attack is the latest in a series of violent incidents that have occurred since the Jan. 30 national elections, raising questions whether the landmark balloting will lead quickly to stability in this fractured country.
On Thursday, insurgents ambushed Iraqi police who had come to an area about 10 miles southeast of Baghdad to search for weapons. The Interior Ministry said 14 policemen were killed, 65 were wounded and six were missing after the two-hour gunbattle. Four insurgents also died in the fighting, the ministry said.
Final results have not been released, but partial figures indicate Shiite Muslims linked to the powerful clergy will have the largest number of seats in the 275-member National Assembly. Interim Prime Minister Ayad Allawi's ticket was running third behind a Kurdish alliance.
Elsewhere, an aide to Iraq's most revered Shiite Muslim cleric was injured in an assassination attempt in Baghdad after receiving threats from militants opposed to his support for Iraq's elections, a relative of the man said Friday.
Sheik Ammar al-Hilali, a representative of Grand Ayatollah Ali al-Sistani, was shot seven times by gunmen who opened fire from two cars as he left sunset prayers at a mosque on Tuesday, said the relative, Ali al-Lafta.
The relative said Sheik al-Hilali has received many threats from Sunni Arab extremists who opposed his support for Iraq's landmark Jan. 30 elections.
Ayatollah al-Sistani himself was a strong backer of the vote and even declared voting a religious duty for every man and woman, contributing to a huge turnout among Shiites, who comprise about 60 percent of Iraq's 26 million people.
However, many Sunni Arabs, estimated at 20 percent of the population, apparently stayed away from the polls, either out of fear of insurgent attacks or in support of a boycott call by their clergy.
During Friday prayers at a mosque in a Sunni district of Baghdad, the preacher urged Iraqis to unite to "push out the enemy," meaning the Americans, "by any legitimate means."
Rumsfeld flew to the tense northern city of Mosul for a meeting with commanders and troops before traveling on to Baghdad. In his address at the Mosul airfield, Rumsfeld told American troops: "You have shown that America is in fact a land of liberators, not a land of occupiers."
But, he added: "It is the Iraqis who have to over time defeat the insurgency."
Rumsfeld is the most senior U.S. official to arrive in Iraq since the elections. Rumsfeld's spokesman Larry di Rita said the purpose of the trip was "to recognize the great success of the elections."
As American officials speak of the need for the Iraqis to shoulder more responsibility for battling the insurgents, the rebels have been stepping up their attacks against Iraqi police and soldiers, hoping to undermine their morale and the public's confidence in their capabilities.
More than 50 people have been killed since late Wednesday in insurgency-related violence, and many of the victims were from the security services.
Today's Top News
Top World News

Report: N. Korea demands talks with U.S.




Prince Charles to marry Camilla




Iran vows 'burning hell' for any aggressor




China assembles moon satellite models




China projects 8 percent annual growth




China finds more oil reserves