Report: N. Korea demands talks with U.S.
(Agencies)
Updated: 2005-02-11 20:40
North Korea has demanded bilateral talks with the United States to defuse the tension created by its announcement that it is a nuclear power, North Korea's U.N. envoy said in a South Korean newspaper interview published Friday.
Han Sung Ryol, a senior diplomat at North Korea's U.N. delegation in New York, was the first North Korean official to speak to outside news media since Pyongyang's Foreign Ministry defied the United States and its allies by declaring Thursday that it has nuclear weapons, its first public announcement that it has weapons.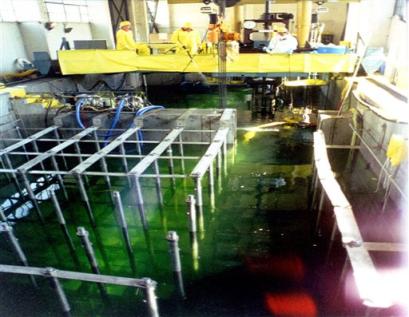 North Korea's spent nuclear fuel rods, kept in a cooling pond, are seen at the nuclear facilities in Yongbyon, North Korea in this Dec. 1996 photo, released from Yonhap News Agency Friday, Feb. 7, 2003. [AP]
North Korea said the weapons are a deterrent against a U.S. invasion and that it doesn't intend to join six-nation disarmament talks any time soon.
"We will return to the six-nation talks when we see a reason to do so and the conditions are ripe," Han told Seoul's Hankyoreh newspaper in a Thursday interview in New York. "If the United States moves to have direct dialogue with us, we can take that as a signal that the United States is changing its hostile policy toward us."
Han's suggestion came as the two-year-old standoff over North Korea's nuclear weapons programs plummeted to a new chill with Pyongyang's statement Thursday.
It's a long-running North Korean strategy to try to engage the United States in bilateral talks even as it keeps six-nation talks open, believing such meetings would boost the country's international status and help it win bigger concessions.
The United States has refused to engage in bilateral talks.
Governments around the world have expressed concern over North Korea's nuclear statement and urged it to return to talks on ending its nuclear ambitions in return for economic and diplomatic benefits. But North Korea says it won't do so as long as Washington maintains its "hostile" policy toward the North.
"The key is a change in the hostile U.S. policy toward the North," Han was quoted as saying. "We have no other option but to regard the United States' refusal to have direct dialogue with us as an intention not to recognize us and to eliminate our system."
Hopes for the resumption of talks rose after US President Bush began his second term without using harsh words against North Korea. But Pyongyang said Secretary of State Condoleezza Rice's labeling last month of it as one of the "outposts of tyranny" was insult enough to scuttle the diplomatic process.
North Korea interpreted that Bush's recent emphasis on spreading freedom and ending tyranny around the world "effectively targeted" North Korea, Han said. "Although Bush didn't mention our country by name, the context makes it clear that there is a strong connection with" the comments by Rice, he said.
Earlier Friday, South Korea urged the United States and its allies to be calm following North Korea's sudden declaration, reminding them that blustering and brinksmanship are nothing new in Pyongyang's toolbox of diplomatic tactics.
But South Korean officials also cautioned that North Korea could take further steps to raise tensions ¡ª such as shipping weapons materials to other countries with nuclear ambitions or even testing a bomb.
The North's announcement and its decision to pull out of six-nation disarmament talks was "a matter of grave concern," South Korean Foreign Minister Ban Ki-moon told reporters in Washington, where he arrived on a previously scheduled trip to meet U.S. Secretary of State Condoleezza Rice.
But it is important to remember that "North Korea has shown similar attitudes in times of crucial negotiations" in the past, South Korea's Yonhap news agency quoted him as saying.
"We need to calmly analyze the situation," Ban said, noting the North's commitment to "solve the issue through dialogue and negotiations."
In Seoul, Vice Foreign Minister Lee Tae-shik told members of the ruling Uri party that "the North's move appears to be aimed at improving its negotiating power."
But he warned "the problem could get very serious if North Korea takes additional actions," according to Uri Party spokesman Lim Jong-suk.
South Korea's take on North Korea's announcement reflects its decades-long experience in dealing with North Korean officials, who pepper their negotiating rhetoric with shouts, threats and dire warnings of imminent clashes.
Since the nuclear crisis erupted in late 2002, North Korea has steadily increased stakes in the standoff. It first removed U.N. seals on its mothballed nuclear facilities, expelled the last U.N. nuclear monitors, then quit the Nuclear Nonproliferation Treaty, and later said it had completed reprocessing 8,000 spent fuel rods to extract weapons-grade plutonium.
Since 2003, the United States, the two Koreas, China, Japan and Russia have held three rounds of talks in Beijing, but no significant progress has been made.
China hopes six-party talks continue
China hopeed that the nuclear talks can be continue, Chinese Foreign Ministry spokesman Kong Quan said Thursday
"China was watching the situation," Kong said, noting China persistently stands for the denuclearization of the Korean Peninsular and maintaining peace and stability on the Korean Peninsula.
"We hope the talks can be continue", Kong said. The six-party talks on the nuclear issues on the Korean Peninsula involves Democratic People's Republic of Korea, the United States, China, Republic of Korea, Russia and Japan.
Three rounds of six-party talks have taken place in Beijing, Chinese capital, since August 2003, playing as a channel for the concerned sides to settle the nuclear issue through dialogue and talks.
A statement from the DPRK Ministry of Foreign Affairs carried by the official Korean Central News Agency said, "We have wanted the six-party talks but we are compelled to suspend our participation in the talks for an indefinite period."
Today's Top News
Top World News

Japan action severe violation of Chinese sovereignty




US rejects one-on-one North Korea talks




23 die in Iraq attacks on bakery, mosque




60 dead in Pakistan dam burst




President visits villagers in minority region




Young Chinese greet festival in new fashion