Abbas rounds on commanders after truce breached
(Agencies)
Updated: 2005-02-11 11:13
Palestinian President Mahmoud Abbas fired three of his top security chiefs on Thursday after militants, puncturing a cease-fire he reached with Israel, bombarded Jewish settlements in Gaza with mortar rounds.
Israeli cabinet minister Ophir Pines praised Abbas for "an unprecedented step" in dismissing the three, members of Yasser Arafat's old guard, in response to violence that flared after Tuesday's summit in Egypt with Prime Minister Ariel Sharon.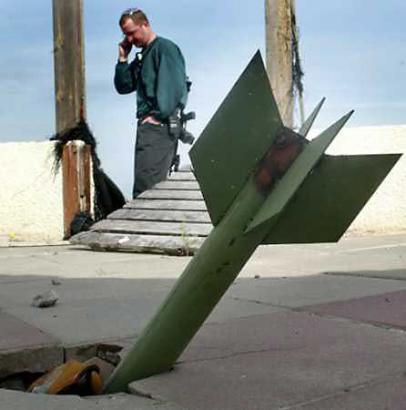 An Israeli settler speaks on his cell phone next to an unexploded rocket following an attack at the Neve Dekalim settlement, February 10,2005. Palestinian gunmen rained mortar fire into Israeli settlements in occupied Gaza despite new President Mahmoud Abbas's formal truce declaration at a summit that revived Middle East peace hopes. [Reuters]
The United States, which has pledged renewed commitment to Middle East peacemaking after Abbas succeeded Arafat last month, also praised the dismissals.
"President Abbas has made clear his commitment to end violence and terror," State Department spokesman Adam Ereli told reporters in Washington. "This is a sign of his commitment and his determination to follow through."
Palestinian officials said Abdel-Razek al-Majaydeh, public security chief for the West Bank and Gaza, Palestinian Authority police chief Saeb al-Ajez and Omar Ashour, commander of the security forces in the southern Gaza Strip, were all fired.
Six lower-ranking commanders also lost their jobs.
"Nobody can shirk their duties, and measures will be taken to boost the capability of the security services in accordance with decisions taken at the political level," Palestinian Security Council member Jibril Rajoub told Reuters.
In another reminder of armed chaos in the Palestinian street challenging Abbas, dozens of gunmen including Hamas militants stormed into a Gaza City prison on Thursday and shot dead three inmates in a settling of scores between feuding clans.
Some 50 mortar bombs and rockets hit settlements in Gaza, but there were no casualties in the attacks by militants who have refused to participate in the cease-fire Abbas and Sharon announced at their groundbreaking meeting.
Israel signaled it would make no immediate military response. "If the Palestinians do not know how (to stop such attacks), we do," Israeli Defense Minister Shaul Mofaz said.
But, referring to Abbas's intention to end more than four years of violence, Mofaz added: "We cannot let this historic opportunity slip through our fingers."
PUBLIC ALERT
The official Palestinian news agency, WAFA, later announced Abbas had declared "a public alert in all of the security services to confront challenges that give Israel a pretext to avoid carrying out the commitments it made at (the summit)."
Hamas, which with other militant groups had maintained a tacit truce for weeks to give Abbas a chance to start talks with Israel, insisted it was not defying the new leader.
It said the mortar barrage was to avenge the killing of a Palestinian by Israeli troops near a settlement on Wednesday. Troops said they fired on suspected intruders. Palestinians said the man was a civilian walking near his home.
Thousands of Palestinian security police fanned out through Gaza two weeks ago on Abbas's orders to prevent attacks on Israelis. But those forces have not tried to disarm gunmen.
A senior Israeli official said Abbas had to crack down on armed factions quickly or risk the collapse of the calm seen as crucial to launching a U.S.-devised peace "road map" that charts steps to a Palestinian state in Israeli-occupied territories.
Abbas has said he prefers to co-opt rather than try to crush militant factions for fear of civil unrest.
In return for quiet, Israel is to release 500 Palestinian prisoners next week, with another 400 to follow.
Today's Top News
Top World News

N. Korea says it has nuclear weapons, nixes talks




Prince Charles to marry Camilla




Iran vows 'burning hell' for any aggressor




China assembles moon satellite models




China projects 8 percent annual growth




China finds more oil reserves