Iran vows 'burning hell' for any aggressor
(Agencies)
Updated: 2005-02-11 09:35
Iran, facing mounting U.S. pressure over its nuclear program, promised Thursday a "burning hell" for any aggressor as tens of thousands marched to mark the 26th anniversary of its Islamic revolution.
"The Iranian nation does not seek war, does not seek violence and dispute. But the world must know that this nation will not tolerate any invasion," President Mohammad Khatami said in a fiery speech to the crowd in central Tehran.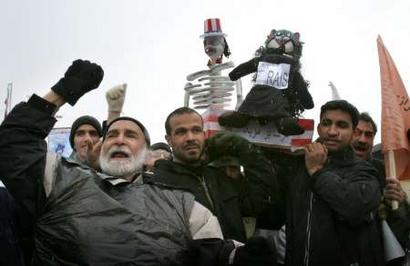 Iranians carry a coffin draped with the U.S flag and effigies of U.S. Secretary of State Condoleezza Rice and Uncle Sam during celebrations to commemorate the 26th anniversary of Iran's Islamic revolution, at Tehran's Azadi (Freedom) Square February 10, 2005. [Reuters]
"The whole Iranian nation is united against any threat or attack. If the invaders reach Iran, the country will turn into a burning hell for them," he added, as the crowd, braving heavy snow, chanted "Death to America!" and "Death to Israel!."
Senior officials had called for a big turnout at the revolution anniversary parades to send a message to Washington which has toughened its stance on Iran in recent weeks.
US President Bush said Wednesday a nuclear-armed Iran would be "a very destabilizing force" and urged the West to work together to stop this happening.
"The Iranians just need to know that the free world is working together to send a very clear message: Don't develop a nuclear weapon," Bush said.
Unlike North Korea, which Thursday openly declared it has made nuclear arms, Iran denies U.S. accusations it is building bombs under cover of a civilian nuclear energy program.
But Iran, too, has hardened its language in recent days, refusing to contemplate scrapping sensitive activities like uranium enrichment -- which can be used to make bomb-grade material -- and vowing to accelerate work on its program if the United States or Israel attacked its atomic plants.
HEADING FOR SECURITY COUNCIL?
Diplomats said while the chances of a U.S. or Israeli attack were slim, Iran appeared to be on a collision course with the U.N. Security Council, which could impose sanctions.
"It's hard to see how they can avoid going to the Council, unless they substantially change their position," said a Western diplomat in Tehran.
US Secretary of State Condoleezza Rice said Wednesday Tehran must accept a deal being offered by the European Union -- to scrap potentially weapons-related work like enrichment in return for trade deals and other incentives -- or be referred to the Security Council.
But Iran's top nuclear negotiator Hassan Rohani told Reuters in an interview this week there was nothing the West could offer Iran that would tempt it to give up its atomic fuel cycle.
Defense Minister Ali Shamkhani accused the EU and United States of colluding in an effort to force Iran to compromise.
"One side is playing a good cop role, while the other side is playing the bad cop in order to put Iran in the throes of the good cop from fear of the bad cop," the official IRNA news agency quoted him as saying.
There are also mixed voices coming from Iran. While most rhetoric this week has been hard line, a top nuclear negotiator Thursday signaled an opening for a deal at EU talks, which continue Friday, because of a perceived change in the European position.
"The chance of striking an agreement is not small because Iran is quite flexible in this regard," Hossein Mousavian, a senior official at Iran's Supreme National Security Council, told state television.
NEED TALKS TO CONTINUE
One European diplomat in Tehran said it was typical for Iran to turn up the heat of its rhetoric in the run-up to a round of talks with the EU and then soften its stance afterwards.
"It's typical posturing. At the end of the day they don't want to go to the Security Council so they need to continue the EU talks," the diplomat said.
Those at Thursday's annual demonstration said Iran would not back down in the face of U.S. threats.
"The U.S. is after an excuse. If we stop atomic technology, they will find another excuse," said Habibollah Hosseini, a 68-year-old cleric.
"They invaded Iraq although there were no weapons (of mass destruction). The best response to intimidation is unity and power. We are here to show this," he said.
Several carried effigies of Bush, one of which, carrying a banner which read "I love war" was burned.
Today's Top News
Top World News

N. Korea announces it has nuclear weapons




Prince Charles to marry Camilla




Iran vows 'burning hell' for any aggressor




China projects 8 percent annual growth




China finds more oil reserves




Leaders greet festival with disadvantaged