N. Korea says it has nuclear weapons, nixes talks
(Agencies)
Updated: 2005-02-10 17:55
North Korea on Thursday announced for the first time that it has nuclear weapons and rejected moves to restart disarmament talks any time soon, saying it needs the armaments as protection against an increasingly hostile United States.
The pronouncement dramatically raised the stakes in the two-year-old nuclear confrontation and posed a grave challenge to US President Bush, who started his second term with a vow to end North Korea's nuclear program through six-nation talks.
"We ... have manufactured nukes for self-defense to cope with the Bush administration's ever more undisguised policy to isolate and stifle the (North)," the North Korean Foreign Ministry said in a statement carried by the Korean Central News Agency.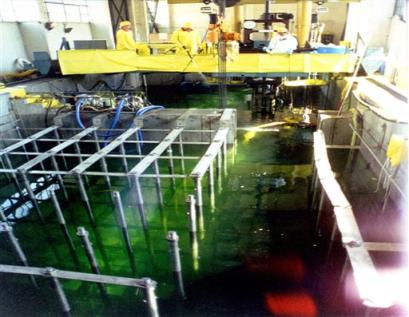 North Korea's spent nuclear fuel rods, kept in a cooling pond, are seen at the nuclear facilities in Yongbyon, North Korea in this Dec. 1996 photo, released from Yonhap News Agency Friday, Feb. 7, 2003. [AP]
Previously, North Korea reportedly told U.S. negotiators in private talks that it had nuclear weapons and might test one of them. Its U.N. envoy told The Associated Press last year that the country had "weaponized" plutonium from its pool of 8,000 nuclear spent fuel rods.
But Thursday's statement was North Korea's first public acknowledgment that it has nuclear weapons. North Korea makes all important statements in the name of its Foreign Ministry spokesman and spreads them through KCNA.
North Korea's "nuclear weapons will remain (a) nuclear deterrent for self-defense under any circumstances," the ministry said. "The present reality proves that only powerful strength can protect justice and truth."
The United States and South Korea played down the revelation and urged the North to return to the six-nation talks that began in 2003 and also include China, Japan and Russia. Analysts suggested the move by North Korea may be a negotiating tactic aimed at getting more compensation in exchange for giving up its nuclear weapons program.
US Secretary of State Condoleezza Rice said North Korea should return to negotiations.
"The world has given them a way out and we hope they will take that way out," she said, wrapping up a trip to Europe. "The North Koreans have been told by the president of the United States that the United States has no intention of attacking or invading North Korea.
"The message is clear: give up these aspirations for nuclear weapons and you know life can be different," Rice said, adding that it was the same message Libya understood in renouncing its nuclear ambitions.
South Korea urged its neighbor to rejoin the talks, and said it maintains its previously stated estimate that North Korea has enough plutonium to build one or two nuclear bombs.
"We once again urge North Korea to rejoin the six-party talks without conditions so that it can discuss whatever differences it has with the United States and other participants," said South Korean Foreign Ministry spokesman Lee Kyu-hyung.
Both Rice and White House spokesman Scott McClellan played down any significance of North Korea's announcement that it has nuclear weapons, saying it was "rhetoric" that has been heard before.
"We remain committed to a peaceful diplomatic resolution to the nuclear issue with regards to North Korea," McClellan said aboard Air Force One en route to North Carolina. "It's time to talk about how to move forward."
Since 2003, the United States, the two Koreas, China, Japan and Russia have held three rounds of talks in Beijing aimed at persuading the North to abandon nuclear weapons development in return for economic and diplomatic rewards. But no significant progress has been made.
A fourth round scheduled for last September was canceled when North Korea refused to attend, citing what it called a "hostile" U.S. policy.
In recent weeks, hopes had risen that North Korea might return to the six-nation talks, especially after Bush refrained from any direct criticism of North Korea when he started his second term last month.
On Thursday, North Korea said it had no intention to rejoin such talks any time soon.
"We have wanted the six-party talks but we are compelled to suspend our participation in the talks for an indefinite period till we have recognized that there is justification for us to attend the talks," the North said.
North Korea said it made the decision because "the U.S. disclosed its attempt to topple the political system in (North Korea) at any cost, threatening it with a nuclear stick."
Still, North Korea said it retained its "principled stand to solve the issue through dialogue and negotiations and its ultimate goal to denuclearize the Korean Peninsula remain unchanged."
Such a comment has widely been interpreted as North Korea's negotiating tactic to get more economic and diplomatic concessions from the United States before joining any crucial talks.
In his State of the Union address earlier this month, Bush only briefly mentioned North Korea, saying Washington was "working closely with governments in Asia to convince North Korea to abandon its nuclear ambitions."
Bush's tone was in stark contrast to his speech three years ago, when he branded North Korea part of an "axis of evil" with Iran and Iraq.
The nuclear crisis erupted in October 2002 when U.S. officials accused North Korea of running a secret uranium-enrichment program in violation of international treaties. Washington and its allies cut off free fuel oil shipments for the impoverished country.
North Korea retaliated by quitting the Nuclear Nonproliferation Treaty in early 2003 and restarting its plutonium-based nuclear weapons program. Its plutonium facilities had been frozen in return for oil shipments and other benefits under a 1994 deal with Washington.
The North had also claimed that it completed reprocessing 8,000 spent fuel rods previously unloaded from its 5-megawatt reactor and kept under U.N. seals under the 1994 deal. The reprocessing could yield enough plutonium for several nuclear bombs.
The North has also reloaded the 5-megawatt reactor, which can generate more spent fuel laden with plutonium.
China hopes six-party talks continue
China hopeed that the nuclear talks can be continue, Chinese Foreign Ministry spokesman Kong Quan said Thursday
"China was watching the situation," Kong said, noting China persistently stands for the denuclearization of the Korean Peninsular and maintaining peace and stability on the Korean Peninsula.
"We hope the talks can be continue", Kong said. The six-party talks on the nuclear issues on the Korean Peninsula involves Democratic People's Republic of Korea, the United States, China, Republic of Korea, Russia and Japan.
Three rounds of six-party talks have taken place in Beijing, Chinese capital, since August 2003, playing as a channel for the concerned sides to settle the nuclear issue through dialogue and talks.
A statement from the DPRK Ministry of Foreign Affairs carried by the official Korean Central News Agency said, "We have wanted the six-party talks but we are compelled to suspend our participation in the talks for an indefinite period."
Today's Top News
Top World News

N. Korea says it has nuclear weapons, nixes talks




Prince Charles to marry Camilla




Iran vows 'burning hell' for any aggressor




China projects 8 percent annual growth




China finds more oil reserves




Leaders greet festival with disadvantaged