Chinese celebrate festival in various ways
(Xinhua)
Updated: 2005-02-10 10:22
People across China are celebratingthe Spring Festival, the New Year on China's lunar calendar, in a variety of ways.
Braving the chilly winter morning, Wang Chengnian, a Beijing resident, went to the Long Tan Temple Fair held in a downtown parkwith his family. He spent the day eating local foods, watching traditional performances and, most importantly, sharing happiness with family members.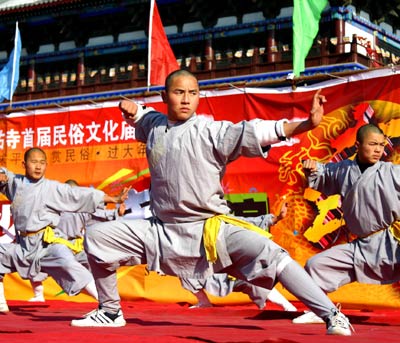 Monks from the Songshan Shaolin Temple perform Chinese martial arts at a temple fair in Liaoyang, Northeast China's Liaoning Province Wednesday February 9, 2005. Chinese ushered in the Lunar New Year, the Year of the Rooster Wednesday. [newsphoto]
"I was busy all year long and have not had much time to be withmy family on usual days. I want to make up for what I missed," said Wang, adding that in the festival, being with family is the only thing he wants to do.
For many people like Wang, Spring Festival is the most important holiday. It is also an occasion for gatherings of familyand friends.
Welcoming the Year of the Rooster, rooster-themed activities are everywhere. In south China's Guangzhou, a six-meter rooster made up of 3,888 carnations stood in Yuexiu Park. Northwest China's Xi'an, held cock-fights. The Beijing Zoo held an special exhibition with 94 pheasants in 19 varieties.
All these activities attracted not only local residents, but tourists from all over the country. An increasing number of Chinese choose to travel during the Spring Festival holiday season.
Shaoshan in central China's Hunan Province, the hometown of late Chairman Mao Zedong, received more than 5,000 tourists Wednesday alone.
"One fourth of the visitors are from other provinces," said TanMingzhang, director of the local tourism department.
In Harbin, capital of northeast China's Heilongjiang Province, 95 percent of hotel beds were booked. The local tourism departmentpredicted that there would be more than 1.2 million tourists in the city during the week-long holiday.
While most people enjoy family reunions, some Chinese choose tostay alone outside their hometown for various reasons.
At the construction site of the Qinghai-Tibet Railway, more than 100 workers are still working as usual. To protect building materials from being stolen or being destroyed, Xiong Zhongxu, a worker from neighboring Sichuan Province, stayed at the construction site, rather than going back hometown as previous years.
"Though I miss my family, I feel proud and happy to do my part to the building of this great railway," said Xiong.
Wang Liang, a 18-year-old freshman at Wuhan University, will stay on campus the whole winter break. Wang came from a poor family in a remote mountain area of southwest China's Guizhou Province. Tuition is a heavy burden for the family. To save money on the tickets back home and earn more money for the next semester,Wang chose to stay in university and work part-time in the library.
But Wang is not lonely, as some of his friends are also there, and the university scheduled activities, like parties, to ease their homesickness.
Today's Top News
Top China News

N. Korea announces it has nuclear weapons




Leaders greet festival with disadvantaged




Japan's action on island lighthouse "illegal'




China poised to overtake US in 2020s




US asks China to push for N. Korea talks




China's trade surplus reach US$6.48b in Jan.